During World War II, a lot of leisure activities were sacrificed due to unavailability of raw materials for manufacturing products needed to pursue them. We have all see photos of kids collecting scraps of metal, rubber, and other materials for recycling as components of airplanes, guns, canteens, ships, etc. Aircraft modeling took a hit along with most other hobbies since metal for engines and wood for airplane kits (balsa was popular for shipping contain packing) were scarce. It wasn't until the late 1940s that Roy Cox was able to begin mass producing his famous line of miniature engines, most notably the .049 family. Other manufacturers - like Allyn - were following suit. This article reviewing the Allyn .049 Sky Fury came in 1954.

Allyn .049 Sky Fury Engine Review

Allyn .049 Sky Fury reveals new, important improvements, runs steady, wide rpm range.

By E. C. Martin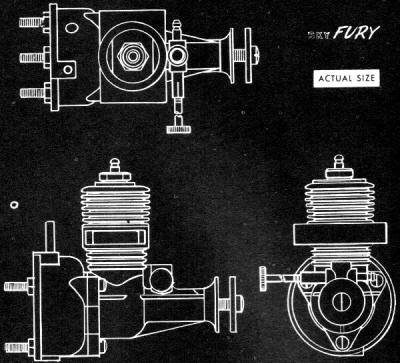 The design of the Sky Fury affords big-prop, high-torque performance as well; good for free flight.

A novel and most interesting engine, the Sky Fury is a refreshing departure from conventional Half-A design in almost every detail, and justifies its difference with a sparkling performance. The Allyn engineers have obviously tossed convention out of the window and made a fresh start, with a result that embodies several functional improvements which are doubly attractive because they also simplify production methods.

The basis of the Sky Fury is a neat aluminum pressure die casting which incorporates intake, main bearing, crankcase, the entire cylinder including head and fins, and large double opposed exhaust stacks. Three equally spaced radial mounting lugs of a full 1/8 in. thickness do much to eliminate the broken lug bug, and the absence of a cylinder flange thread takes most of the risk out of a careless plug change, whereas the widely used screwed cylinder assembly is prone to distortion when tightening of the plug or cylinder is not carefully done.

The cylinder barrel is accurately bored to a close slip fit for a drop-in type cylinder liner, and a shoulder at the bottom provides end location in one direction, while a plug screwed into threads at the top of the bore constrain it in the other, thus sandwiching the liner in a manner which directs all stress axially along the cylinder walls. In this way, all the bore distortion from radial thread loading common to normal screwed assemblies is removed.

A short and rather small diameter crankshaft rotary intake provides unusual flexibility and potent fuel suction, but somewhat restricts top end performance. Several other design features tie in with this carburetion characteristic to provide a great deal more torque than usual among Half-A glow engines which are almost exclusively in the high bhp at high rpm category, and the resulting big prop performance combined with usefully dimensioned exhaust stacks, long jet needle and single vent large capacity tank, makes the Sky Fury of interest to free flight scale enthusiasts. Viewed in this light, a slightly longer intake would probably improve carburetion still further, and greatly facilitate handling and the attachment of an extension for cowled installations.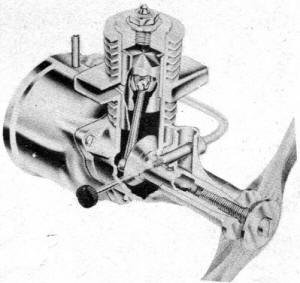 A nickel plated brass spray bar, with a split female thread frictioning device, is press fitted into substantial bosses on either side of the intake, and the delivery side has a bore that is smaller than the maximum diameter of the needle taper so that a positive fuel shut-off is available if required.
Every effort has been made to reduce crankcase Volume and charging loss to a minimum. The bearing end of the crankcase is accordingly hemispherically shaped with a small annular projection to sustain the thrust loading of the crank disc, and the disc itself is heavily chamfered to suit, and also to clear the overlap of the piston at bottom dead center. The two alternative backplates supplied are arranged to butt up as close to the crankpin as possible and are stepped for piston skirt clearance.
Aluminum pressure die castings of substantial proportions comprise the combined backplate and radial tank mount, and alternative regular backplate, both being formed to match the crankcase mounting lugs. The tank blends into a bell shape in order to provide a mounting face of large area, and to accommodate a large fuel supply without excessive overhang. Only one vent tube is fitted and this extends down into the tank in such a way that fuel level when filled is only slightly above the jet with the engine in a horizontal position. A boss is cast into the bottom of the tank, however, which can be easily drilled for a lower vent tube, and the existing upper tube can be replaced by one of appropriate length to produce a simple stunt tank. The plastic delivery pipe extends through the usual hole in the top to the tank bottom, and owing to the lack of a second vent it is wise to use the delivery pipe for filling if carburetor flooding is to be avoided. Three mounting bolts are supplied which also serve to retain the tank and tank backplate. Vellumoid gaskets are used at both joints.
The case hardened steel crankshaft is of average dimensions for the displacement, having 7/32 in. outside diameter, 5/32 in. dia. gas passage, and 1/8 in. dia. crankpin. A circular valve port of 5/32 in. dia. is used, which is ample for the size of air intake. Apart from a most excellent surface finish, the crankshaft is interesting because it is hollow through its entire length, and the prop retaining bolt is the only agency which opposes crankcase leakage. In practice there is slight oil seepage of no consequence, apart from which the system seems very satisfactory. The payoff on this feature goes to the man and machine that tap the hole. It is considerably quicker to tap than the usual blind variety. A fairly abrupt taper provides keying action for the aluminum prop driver and an aluminum washer and blued steel bolt retain the special 6 x 3 Sky Fury (Top Elite manufactured) prop supplied.
A machined aluminum conrod with ball jointed small end and outstanding crankpin fit and finish is retained on a recessed boss inside the hardened steel piston by a cup which is swaged over rod and boss to form a permanent assembly.
The piston skirt is about 30 percent longer than usual for the displacement, and as a result, exceptional life may be expected from both piston and cylinder, as loading is distributed over a larger area and better guidance reduces piston rock. However, we seldom get something for nothing, and the above benefits are offset, to some extent, by the necessarily longer cylinder and the increased total crankcase Volume arising from the greater internal Volume of the piston. This is actually a limiting factor for ultimate performance which has already been prevented by the intake and shaft valve, so in the final reckoning the piston dimensions may be taken as an asset, as it is under heavily loaded conditions that the Sky Fury excels.
The Meehanite cylinder liner is extremely interesting as it employs a bypass porting system that is unique in this country, while paradoxically being almost universal among European engines. It takes the form of four grooves which appear to be holes with an imaginary center inside the bore diameter, which is indeed exactly how they are made. A plug is inserted in the bore, during manufacture, which has four holes in it that break out of its outside diameter. An end mill inserted in each hole then chews a crescent shaped groove out of the cylinder wall to a depth corresponding to the height of a normal bypass port. The final result is a port and bypass passage produced in one machining operation. The piston, of course, provides the inside wall of the passage. The advantages are smooth gas flow and excellent piston lubrication, while the disadvantages devolve on the manufacturer in the form of worn or broken end mills and bore honing difficulties.
The cylinder wall has to be slightly thicker and heavier than usual to accommodate the grooves, but, as a result, has a resistance to distortion and heat conducting quality that would be an asset to most of the conventional designs.
Two opposed exhaust ports, each covering about 160° of the bore circumference, are located just above the bypass grooves to provide valve events of typical nature for a radial ported engine. Piston crown and combustion chamber, however, have flat faces, which, contrary to expectations, did not seem to produce excessive charge loss or dirty exhaust.
The head, as already mentioned, is an aluminum plug which screws into the main casting to bear on the top lip of the cylinder liner, with a plasticized gasket between, and has a pair of small flats projecting about 1/16 in. above the casting for wrench application.
An interesting glow plug is supplied. It has a very large Volume recess and an element in the form of a "W" pointing downward. During the test, conventional plugs were substituted and it was found that few gave such good results at any speed and none at very low speed, where a point could be found at which no other would sustain running unless the battery was connected.
It was also apparent on the test that the Sky Fury has remarkable range of speeds over which it will run steadily.
A sticking tendency between piston and cylinder may be in evidence in a brand new engine. This is a common peculiarity of the materials used and will disappear eventually. It has no effect on performance and occurs only during hand cranking.
Test: Allyn Sky Fury .049
Plug: 1/4 x 32, Short reach as supplied, 1-1/2 volts to start; Fuel: O & R AA; Running Time Prior to Test: 2 hours; Bore: .390 in.; Stroke: .400 in.; Weight: 1-3/4 oz.
Power Prop RPM
6 x 5 10,000
6 x 4 11,000
6 x 3 12,900
5 1/4 x 5 12,200
5 1/4 x 4 13,200
5 1/4 x 3 14,300
Top Flite RPM
6 x 5 9,500
6 x 4 10,700
6 x 3 12,000
Sky Fury prop supplied 12,400
Articles About Engines and Motors for Model Airplanes, Boats, and Cars:
Posted March 1, 2014