This Sketchbook was scanned from the September/October 1963 American Modeler, page 68. Most building tips are timeless. Even in this era of ready-to-fly (RTF), almost-ready-to-fly (ARF), bind-and-fly (BAF), etc., there are still many modelers who build their own aircraft. Nearly all top tier competition fliers build their own models, as do aficionados of vintage (aka old-timer) models. Some guys just would rather build than buy a pre-built airplane, whether from a kit or from plans.
Sketchbook
By H. A. Thomas
Got a new idea for construction, adjustment, or operation of model planes or R/C? "AM" pays $10 for each "hint & kink" used. Send rough sketch and description to Sketchbook, c/o American Modeler, Potomac Aviation Pub-lications, Inc., 1012 14th St., Washington, D.C. 20005.
Block of flexible urethane foam, cut to friction fit to secure tank in position.

Knot pulled against disc by rubber tension.

Ribs, spars pinned to beaverboard during wing assembly.

Torque rod from escapement.

Note: To pressurize regular fuel system, add pressure lead "A" to filler and seal vent tube at "B."

Resin container packed in crushed ice to retard setting.

Rubber bands attached to wing dowels.

All seams soldered - preferably silver-soldered.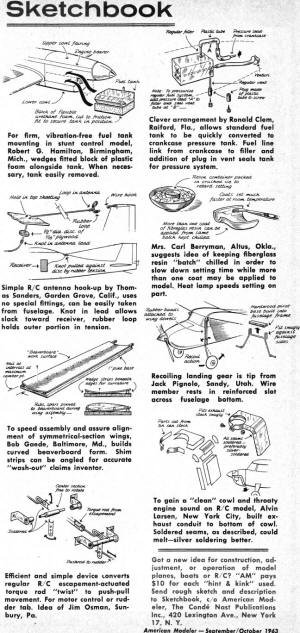 This Sketchbook was scanned from the September/October 1963 American Modeler, page 68.

<click for larger version>

Posted October 19, 2013