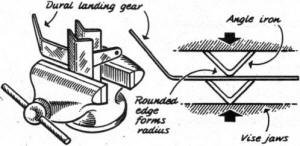 Argentina modeler Enrique Arance tells how he bends dural gear legs to provide uniform radius for extra strength. Note pushing edge of angle iron is rounded.
Interlocking joints at dihedral breaks on solids or gliders improves strength greatly compared to usual butt joints. Bob Meyer, Claremont, Calif., recommends procedure for "Stuka," "Corsair" wings particularly.
Eye-catching trim strips of shiny Christmas tinsel make effective color dividers on two-color paint jobs. Used by Rich-ard Brown, Willow Grove, Pa. Clear dope satisfactory adhesive, says Dick.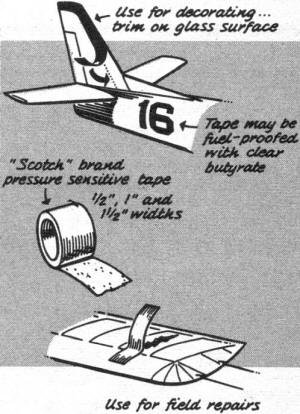 Colored "pressure sensitive" tape, available on rolls of various widths is handy for trimming, repairing models reports Richard Barnes, E. Hampton, Conn. Trim to shape on glass, fuelproof with butyrate clear dope.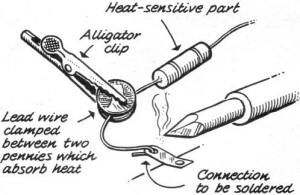 David Nudell, Skokie, III., uses two pennies held by alligator clip on lead of heat-sensitive part when soldering radio gear.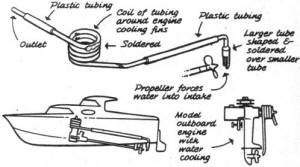 Tube coil gives added cooling to model boat engines according to Japanese modeler Kazutoshl Wakatouki. Intake, behind propeller, admits water under pressure, providing circulation.