Here is another round of nifty model airplane building ideas, aka "Sketchbook," submitted by readers of the Academy of Model Aviation's (AMA's) American Modeler magazine. I'm not too keen on the "rubber mold" idea of using a thin layer of silicon rubber, trimmed to the design outline with a razor knife - especially over an open wing bay or between fuselage longerons. Controlling the depth of the cut is tricky, especially in a layer of silicon that is not of uniform thickness. Mr. Itter must have a steady hand. Using a length of brass tubing with the end filed or sanded to a sharp edge is a handy trick for cutting holes I have used many times over the years - probably after having first seen it in American Aircraft Modeler, R/C Modeler, Flying Models, or Model Airplane News.
Sketchbook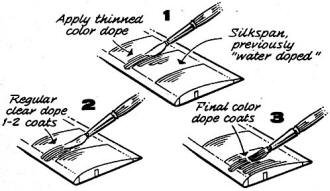 (left) Claiming a more uniform finish, Bill Itter, Stamford, Conn., applies thinned color dope to Silkspan prior to regular doping. Final color coats follow. Especially helpful with light colors.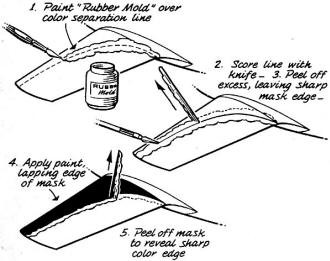 (right) Jess Brewer, Winter Haven, Florida, discovered "Rubber Mold" in art supply store; used it successfully for easy masking on model surfaces for two-color finishes. Use two coats, he advises.
(left) Effective modelers' punch-drill is gadget of G. A. Wilson, Walpole, Mass. Brass tube has serrated edge, is spun between fingers. Cuts cleanly through balsa and thin plywood.
(right) Improvement on radial mount previously printed is this idea by Roman Szalek, LaSalle, Ill. Plywood reinforcements provide landing gear grooves; mount flanges secure wire in place.
Got a new idea for construction, adjustment or operation of model planes, boats or R/c? "AM" pays $10 for each "hint & kink" used. Send rough sketch and description to Sketchbook, c/o American Modeler, 575 Madison Ave., New York 22. N. Y. Please note that because of the very large number of submissions, none can be returned to the sender.
Posted September 22, 2018