Coat hanger wire is bent to shape for use as reel to hold nylon A/2 control lines...

By Alan Lease, Rome, Georgia. (below)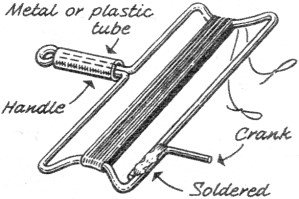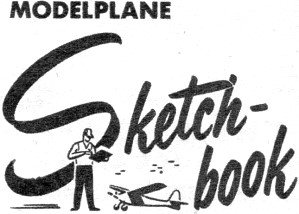 Have you developed something new in construction, control, or flying? Send a rough sketch - we'll redraw it and pay you $5 for each accepted. Ideas should be original; sorry, no correspondence on submissions.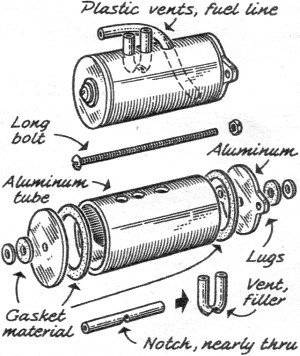 Solderless fuel tank by Sfc. Norman Anderson, Monterey, California, may be disassembled for cleaning... can be any shape. (above)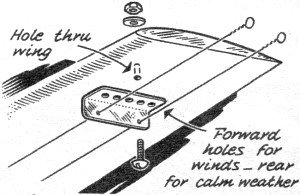 Adjustable dural line guide for speed model allows variation in yaw or "pull" of model to suit wind conditions - By Eric Knox, San Francisco, California. (above)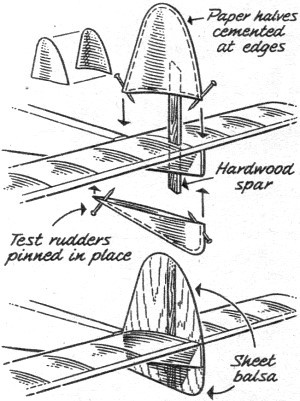 "Slip-on" rudders of stiff 2-ply paper are used to learn by actual tests precise area & configuration. Duplicate area and shape in sheet balsa after testing suggests Pvt. Norm Ingersoll, San Antonio, Texas.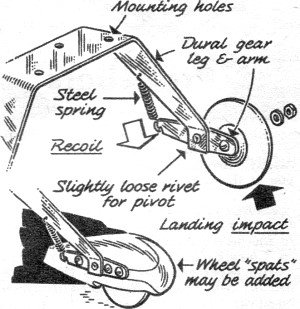 Shock-absorbing feature added to dural landing gear on team racers & sport models is development of John Schroeter, Sacramento, California. (above)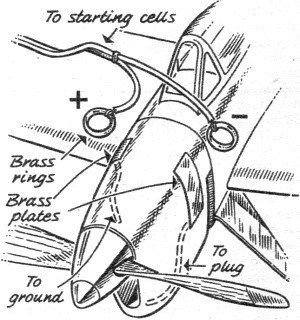 Brass rings held against flush contact plates make quick glo-plug connection by "mechanic" as he holds model for cranking. Used more than a year by William Hollenbach, Jr., San Antonio, Texas. (above)
(Kirt's note: This is a bad idea because those two brass rings can easily come into contact with each other when not pressed against the model, thereby being a real fire hazard.