This 4-view drawing of the Fairchild 22 C-7-F (1934) was scanned from page 38B and 38C of my purchased edition of the July 1968 American Aircraft Modeler. It is another example of Björn Karlström's fine scale drawings.
"The aircraft was designed by Kreider-Reisner during negotiations by Sherman Fairchild to take a major share in the company. Marketed as the Fairchild 22 Model C7 the aircraft was certified in March 1931. The Fairchild 22 was a mixed-construction braced parasol-wing monoplane with a fixed tailwheel landing gear and a braced tail unit. It had two tandem open cockpits and was initially powered by a 80hp (60kW) Armstrong Siddeley Genet radial engine. After test flying the prototype the first production aircraft were re-engined with a 75hp (56kW) Michigan Rover inverted inline engine. The aircraft was fitted with both inline and radial piston engines." - Wikipedia
Fairchild 22 C-7-F (1934)
Scale Presentations by Björn Karlström
145 HP Warner "Super Scarab"
Fairchild trademark carried on the rudder.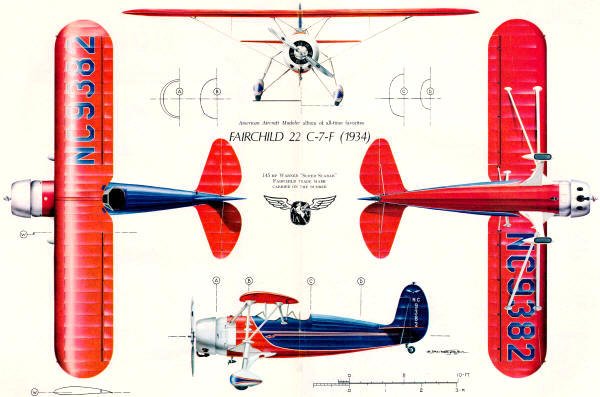 <click image for larger version>
Notice:
The AMA Plans Service offers a full-size version of many of the plans show here at a very reasonable cost. They will scale the plans any size for you. It is always best to buy printed plans because my scanner versions often have distortions that can cause parts to fit poorly. Purchasing plans also help to support the operation of the Academy of Model Aeronautics - the #1 advocate for model aviation throughout the world. If the AMA no longer has this plan on file, I will be glad to send you my higher resolution version.
Björn Karlström Drawings:
Posted September 17, 2011