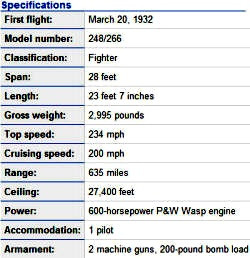 This 4-view for the 1933 Boeing P−26A Peashooter was scanned from my purchased copy of the June 1968 American Aircraft Modeler magazine. 4-view for this fine model was drawn by Mr. Björn Karlström. All copyrights (if any) are hereby acknowledged.
"The all-metal, single-wing P−26, popularly known as the "Peashooter," was an entirely new design for Boeing, and its structure drew heavily on the Monomail. The Peashooter's wings were braced with wire, rather than with the rigid struts used on other airplanes, so the airplane was lighter and had less drag. Its initial high landing speeds were reduced by the addition of wing flaps in the production models.
Because the P−26 flew 27 mph faster and outclimbed biplane fighters, the Army ordered 136 production-model Peashooters. Acclaimed by pilots for its speed and maneuverability, the small but feisty P−26 formed the core of pursuit squadrons throughout the United States. " - Boeing website
This is yet another incredibly fine example of Björn Karlström's artwork!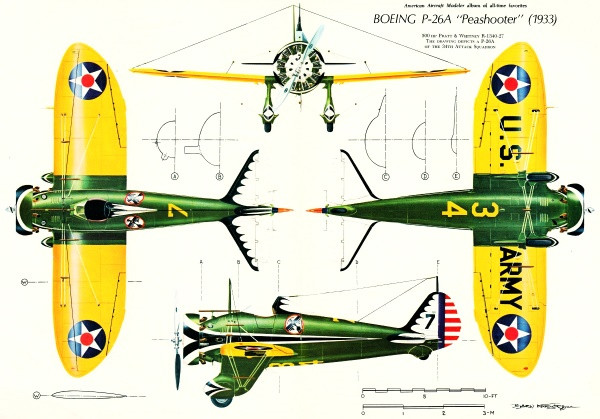 <click image for larger version>
Posted August 7, 2023
(updated from original post on 7/3/2010)
Notice:
The AMA Plans Service offers a full-size version of many of the plans show here at a very reasonable cost. They will scale the plans any size for you. It is always best to buy printed plans because my scanner versions often have distortions that can cause parts to fit poorly. Purchasing plans also help to support the operation of the Academy of Model Aeronautics - the #1 advocate for model aviation throughout the world. If the AMA no longer has this plan on file, I will be glad to send you my higher resolution version.
Björn Karlström Drawings: