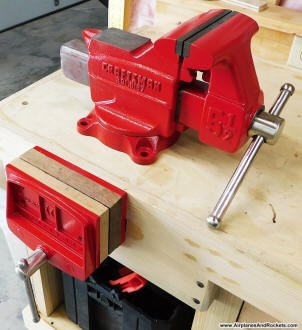 I have been using a 4½" bench vise for decades, and have always wanted to get a larger one. It was OK for most jobs, but there have been times when I thought for sure I'd break it when hammering or bending metal parts in it. This Craftsman 5½" Bench Vise (Model No. 113.228162) appeared on eBay and looked to be in pretty good condition. I figured a bit of polishing and painting would restore it to nearly good-as-new.
The vise was taken completely apart and all the paint was removed using a high speed grinder with an abrasive pad. It left the metal unscathed. Areas that could not be reached with the grinder were wire brushed. Unpainted metal parts were polished with a fine grit pad. A thin coat of RustOleum primer was applied, then three coats of gloss red over that. The vise was set in the sun all day to cure. A thin layer of grease was put on the swivel base mating surfaces, jaw screw, and where the handle meets the vise jaw.
As can be seen from the photos, the Craftsman 5½" Bench Vise no much like it would have when removed from its box decades ago. Now I have a much sturdier vise for heavy duty jobs, but the problem is now I'll be hesitant to use it for fear of messing up the finish ;-)
The Craftsman 7" Woodworking Vise (Model No. 391.5191) is one I have had since around 1982, having bought it soon after separation from the U.S. Air Force. It has served faithfully throughout many woodworking projects, including the building of my pièce de résistance Lorraine Grandmother Clock,, built from Klockit plans. While still in excellent mechanical condition, I decided that while restoring my newly acquired Craftsman 5½" Bench Vise (Model No. 113.228162), I might as well go ahead and spruce up this one as well. The same procedure was used here, and the results can be seen in the photos.
Posted November 18, 2023