These archive pages are provided in order to make it easier for you to find items that you remember seeing on the Airplanes and Rockets homepage. Of course probably the easiest way to find anything on the website is to use the "Search AAR" box at the top of every page.
1 | 2 | 3 | 4 | 5 | 6 | 7 | 8 | 9 | 10 | 11 | 12 | 13 | 14 | 15 | 16 | 17 | 18 | 19 | 20
21 | 22 | 23 | 24 | 25 | 26 | 27 | 28 | 29 | 30

The more things change, the more they stay the same, as the saying goes. In 1942, when this featured appeared in Flying Aces magazine, the participation of women and girls in model aviation was very limited. Being that it was more than 75 years ago, it might have been attributable to a lack of encouragement or even outright discouragement by men and boys. However, here it is 75 years later and the participation rate by women and girls is not that much greater. About the only time you see them in photos in modeling magazines is when they are young girls who are part of a schoolroom group activity conducted by an AMA member. the same goes for model rockets. For that matter, the same goes for model cars, boats, and helicopters. A lot of money and time ...
When I got this Comet Super Stars P−40E Tiger Shark kit #3649 I assumed it was like the one I built as a kid in the late 1960s or early 1970s, but after seeing it I'm thinking maybe I had the Guillows P-40 Warhawk kit. Unlike the kit I had which included injection molded plastic parts for only the complex parts like the spinner and engine exhaust manifold, this Comet kit uses plastic for a large portion of the fuselage. Comet dubs it "SuperXSpeed Construction." The entire area for the top and underside of the fuselage / wing intersection is now plastic. It takes a lot of work out of the building process and probably makes covering that area with Jap tissue easier. Wing ribs are configured in a geodetic manner, which adds great rigidity to the wing, particularly for preventing spanwise twist. It is a fairly large model for rubber power ...

It's hard to imagine the first All-Japan RC Model Helicopter Championship Contest - nearly 40 years ago. This report from the April 1973 edition of American Aircraft Modeler has man-on-the-scene Larry Hoffman's account of the events. There were only 22 contestants flying that day, and all but one flew the Hueycobra made and sold by Kalt, of Tokyo. There were no heading hold gyros or programmable transmitters with pitch and throttle curves - just good old-fashion pilot skill and lots of body language. I certainly don't long for those days - I can barely fly an R/C chopper with all the modern electronic assistance - but the fortitude of the helicopter pioneers is worthy of note and praise.

Airplanes and Rockets website visitor Tony B. wrote to ask that I scan and post this McDonnell F-4 Phantom article, written by noted aviation historian Don Berliner and having a highly detailed drawing by Björn Karlström. Berliner provides a lot of history on the Phantom, beginning with the FH-1 Phantom 1, designed and built by the McDonnell Aircraft Corporation in the days before it merged with Douglas Aircraft Company in 1967. The F-4M was the most recent version when this article was published in the May 1970 issue of American Aircraft Modeler. The U.S. Navy's Blue Angels demonstration team flew F-4J models during airshows from 1969 to 1974. Having grown up in Mayo, Maryland, just a few miles south of Annapolis, I watched the Blue Angels perform for the U.S. Naval Academy graduation ceremonies. Most of the time it was from my back yard where ...

This notice just appeared on the AMA's National Model Aviation Museum website: "New Addition: Helicopter Kite Kirt Blattenberger (AMA 92498) and Steven Krick recently donated two older kits to the museum, including this Parris-Dunn Little Bobby Helicopter Kite kit." The second kit, not yet featured on the AMA website, is the Guillow No. D4 Menasco Trainer kit. Both were generously given to me by Mr. Steven Krick, who is an accomplished modeler of highly detailed plastic static scale model airplanes and a collector of vintage balsa free flight models. In response to my providing some Silkspan covering information, he offered to let me select from a list of kits, and seeing these two and the likely rarity of them, I submitted them the the museum for consideration. They appreciatively accepted them.
India's Chandrayaan 2 Spacecraft Entered Lunar Orbit
"India's Chandrayaan 2 spacecraft entered lunar orbit on Tuesday, executing one of the trickiest maneuvers on its historic mission to the Moon. After four weeks in space, the craft completed its Lunar Orbit Insertion as planned, the Indian Space Research Organisation (ISRO) said in a statement. The insertion 'was completed successfully today at 0902 hrs IST (0332 GMT) as planned, using the onboard propulsion system. The duration of manoeuver was 1738 seconds,' the national space agency said. India is seeking to become just the fourth nation after Russia, the United States and China to land a spacecraft on the Moon ..."
While perusing a box filled with miscellaneous old items at a local garage sale, I spotted this Herkimer OK CO2 motor buried under door hinges, bags of nails, and light bulbs. It was pretty dirty, but it seemed fine otherwise. Half the propeller was missing, so I assume when it broke, that was on the motor's last flight. The motor had been mounted to the still-attached plywood firewall with three small brads! Price" $1. After carefully disassembling the OK CO2 motor, it was soaked overnight in Evapo-Rust, an excellent water-soluble, non-toxic rust remover which I have used often. It cleaned up very nicely. A few drops of Cox after-run motor oil was used when reassembling the motor. I do not have a CO2 cylinder small enough to fit into the holder, so I have not been able to run it yet ...

"ZeroAvia says electric efficiency, fewer repairs, and onsite hydrogen production can make zero-emissions flight cheaper than burning jet-fuel. The aviation industry's global trade group says electric airplanes are unlikely to be flying commercial routes before 2040. That pessimism from the International Air Transport Association is off by nearly two decades according to ZeroAvia, a fast-moving electric flight startup popping out of stealth mode today. For six months already, the Hollister, California-based firm has been flying the world's largest zero-emissions aircraft - the fuel cell equipped prop-plane pictured above - and ZeroAvia vows that its powertrain design will be cutting both carbon and costs for regional flights in just 3 to 4 years ..."

While visiting our daughter in North Carolina, we ran across someone who had a vintage 6-player croquet set for sale for just a few dollars. As the photos below show, it has been completely restored. All components (except the balls) were stripped down to bare wood or metal, sanded, primed, and then painted with four coats of enamel spray paint for color areas and three coats of polyurethane clear on the natural finish portions. The balls would have been too difficult to get to bare wood, so I sanded down to the point where the paint was stable and strongly adhered to the underlying wood. The two end pegs were fabricated from new wood because there was only one original and I wanted them to look alike ...
"The autonomous robot is based on the observation that both rotors and wheels spin. There is great potential in using both drones and ground-based robots for situations like disaster response, but generally these platforms either fly or creep along the ground. The flying sprawl-tuned autonomous robot (Flying STAR) does both through a mechanism based on the elementary observation that both rotors and wheels spin. The hybrid was created using high-powered, lightweight drone components. The result is a robot that can easily fly when it needs to, then land softly and by tilting the rotor arms downwards, direct that same motive force into four wheels ..."

November 9, 1978, a date which will live in infamy - for me, anyway. That was the day I left my comfortable, oblivious 20-year-old existence as an electrician in Mayo, Maryland, and boarded a Delta Airlines flight to San Antonio, Texas. About six months earlier I had signed up under the Delayed Enlistment program. I was on my way to becoming a fully trained and qualified Weather Equipment Specialist, a career field chosen based on my keen interest in weather phenomena, aviation, and aerospace (aka airplanes and rockets). The plan was to survive six weeks of Basic Training (BT) at Lackland Air Force Base and then go on to technical school at Chanute AFB in Illinois. My first assignment ...

"Airbus has revealed a new conceptual aircraft design known as 'Bird of Prey,' intended to inspire the next generation of aeronautical engineers. bird of prey (Credit: Airbus) The hybrid-electric turbo propeller plane takes design cues from eagles and falcons, featuring individually controlled feathers on the wings and tail for precision flight control. Its body also includes a blended wing to fuselage joint that mimics the sweeping aerodynamic arch of predatory birds. Unveiled at the Royal International Air Tattoo at RAF Fairford, the aircraft's primary goal is to encourage young people into aerospace but also marks the 50th anniversary of Airbus ..."

"A man who climbed onto the wing of a plane as it prepared for takeoff at the airport in Nigeria's Lagos city has been arrested, authorities said. The man, who has not been identified, walked towards the aircraft on the runway and was spotted by the pilot, who slowed down and later turned off the engine as the man continued to wander around the aircraft, Azman Air said in a statement. He then jumped onto a wing of the plane and tried to access the cabin, the airline said. The pilot radioed the tarmac to report the incident, according to the airline. The incident happened Friday morning at the domestic wing of the Murtala Muhammed International airport in Lagos ..."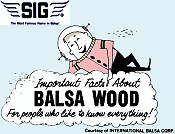 Balsa wood was a special thing to me as a kid. To me, it represented the essence of model airplanes and model rockets. At the time - the 1960s and 70s - plastic and foam as model components were considered a sign of cheapness, low quality, amateurishness. It was like having "Made in Japan" stamped on it. Now, of course, it's a different world where Japan is renowned for some of the highest quality electronics and cars and the plastic and foam ARFs represent some of the highest-performing aircraft at the flying field. I have owned a few of those foamies, but still, at least for my tastes, nothing beats the look, feel and aroma of balsa. Somehow the tell-tale surface texture of foam, even with a nice paint job, ruins the authenticity of an otherwise beautifully factory-finished scale F4-U Corsair or P-38 Lightning. Sorry, that's just the way it is. Sig Manufacturing was ...

"'Flying soldier' arrives at Bastille Day parade on an 118 mph Back to the Future-style hoverboard as Macron shows off France's military innovation in front of world leaders including Angela Merkel. A 'flying soldier' wowed crowds in Paris today when he arrived at France's Bastille Day parade on an 118 mph 'Back to the Future'-style hoverboard. Franky Zapata, 40, brandished an unloaded rifle as a he raced at high speed above world leaders including President Emmanuel Macron and German Chancellor Angela Merkel. Then he landed comfortably on his so-called Flyboard, which he hopes to sell to the French military ..."

Genius takes on many forms, not the least of which is the ability to concoct and compose an [almost] believable a story describing in the utmost detail the technical workings of a complex mechanical gadget. Items such as a mizule wrench, meta-phasic shielding, blinker fluid, a left-handed screwdriver, and - one of my favorites - the muffler bearing, have been heard in comic routines... er... routinely. No matter how many times you hear them you always laugh again. Some are actually a portmanteau and just sound funny while others are completely made up. This Digital Decabulator article that appeared in a 1966 issue of R/C Modeler magazine is amazing; it pegs the B.S. detector from beginning to end ...

"Each year on the third week of April, seniors at Worcester Polytechnic Institute (WPI) present their Major Qualifying Projects (MQPs) to the WPI community and to the public. No classes take place this day, seniors dress in business clothing, and each team gives a 15-minute presentation. Some 20 teams from the WPI Robotics Department participated, showing their robots that fly, collect fish, sail, crawl, sort objects, and roll. One such project, the Oddisy Drone Dispatch System, has commercial potential in that the drone comes in a weather-protective box that opens and closes to allow takeoffs and landings while keeping the drone safe and dry ..."

"Today in remarks at an Innovation Panel before Paris Air Show attendees, FAA Acting Administrator Dan Elwell said the U.S. will ensure and enable safer and more innovative technologies to enter new aviation segments. As an example, Elwell announced a Notice of Proposed Rulemaking (NPRM) that modifies and clarifies existing regulatory procedures to obtain FAA approval to test supersonic aircraft. The NPRM is a first, necessary milestone toward the reintroducing civil supersonic flight. 'The U.S. Department of Transportation and the FAA are committed toward the safe and environmentally-sound research and development of supersonic aircraft ..."
"The Defense Department is trying new acquisition strategies when it comes to unmanned aerial systems. Kevin Fahey, the assistant secretary of defense for acquisition, said his office is trying to steer DOD away from the habit of developing new technologies and training requirements at the same time. 'We, to a large extent, have done urgent requirements and not a lot of programs of record to think through how do you train, how do you equip, how do you do the techniques and procedures, and how do you operate' across the services, Fahey said during Defense One's June 27 Tech Summit. That's especially the case with unmanned aerial systems (UAS) ..."

Being a lover of vintage electronics and aircraft modeling equipment, I had the bright idea that I would buy a vintage Packard Bell desktop computer like I had many moons ago and transplant the innards of my ASUS G750JX Republic of Gamers (RoG) notebook computer into it. After carefully measuring the notebook computer's outside dimensions and estimating the size of the various models of PB computers, I settled on a Packard Bell Legend 406CD and bought it from a guy on eBay. I wanted the type that actually sits on the desktop, with the monitor sitting on top of it. The computer arrived as advertised - dirty but in good mechanical condition, and cleanable. Having never opened the ASUS G750JX ...

Roughly fifty years after my first failed attempt at building a 1/4th−scale Visible V−8 Engine kit, I decided to buy another and try again. It is amazing that the kit is still produced (by Revell now, not the original by Renwal), especially given that very few of the old V-8s - the ones with points and condenser ignition, mechanical carburetor, belt-driven cooling fan, etc. - are running anymore. Many, unfortunately, were destroyed as part of the heinous Cash for Clunkers program in 2009 that served primarily to remove from service classic cars and trucks from U.S. manufactures ...but I digress. If memory serves me properly, back in the era by the time I had all the moving parts assembled and installed, none of them moved anymore ...

"As useful as conventional fixed-wing and quadrotor drones have become, they still tend to be relatively complicated, expensive machines that you really want to be able to use more than once. When a one-way trip is all that you have in mind, you want something simple, reliable, and cheap, and we've seen a bunch of different designs for drone gliders that more or less fulfill those criteria. For an even simpler gliding design, you want to minimize both airframe mass and control surfaces, and the maple tree provides some inspiration in the form of samara, those distinctive seed pods that whirl to the ground ..."

"NASA has selected a SpaceX Falcon 9 rocket - flying with a reused first stage booster - to launch the Imaging X-ray Polarimetry Explorer mission from pad 39A at the Kennedy Space Center in Florida in April 2021, bypassing Northrop Grumman's air-launched Pegasus rocket for the task. The $50.3M contract with SpaceX announced Monday covers 'the launch service and other mission-related costs,' NASA said in a press release. The value of the IXPE launch contract is one of the most concrete examples of SpaceX's progress in reducing launch costs by recovering and reusing first stage boosters. NASA awarded its most recent launch contract ..."

For as long as I can remember, the instructions for assembling eyelets to control line leadout wires has been the one depicted in the image to the right. It appears to be a copy of a copy of a copy of a scanned image from a printed version of the Academy of Model Aviation (AMA) rulebook. This particular rendition comes from the "Control Line General 2017-2018" publication from the AMA (Figure 3. Two-Line Construction, on page 8). Its simple presentation is fairly easy to follow, but actually accomplishing the feat can be a little tricky when using the multistrand steel leadout wire. I am no master of the task, but have constructed many leadout eyelet ends in my six decades. A pictorial representation of the process I use is given below ...

"Set to launch in 2020, Airspeeder will see 10 pilots from five teams face off in purpose-built flying vehicles capable of hitting speeds up to 200 km/h. Each quadcopter will be four meters long, weighing in the region of 250 kg. They will be propelled by eight 50 kW motors driving 60-inch blades, with power provided by swappable 500 kW battery packs that can provide full thrust for around 15 minutes. It's envisioned that races will mirror the early years of Formula E, with a single pit stop / battery swap enabling sprint-style ..."

I have been wanting to build another Jetco Shark 15 control line model airplane for a long time and finally decided to take the dive into the project. Having sold all of my glow fuel engine support equipment (power panel, fuel pump, electric starter, etc.) in exchange for electric power equipment, it would be necessary to modify the airframe to accommodate a brushless outrunner motor, an electronic speed controller (ESC), a motor timer, and a LiPo battery. I dubbed it the "E-Shark 15." Without a whole lot of engineering calculations, I settled on one of the two ElectriFly Rimfire .10 motors I purchased to power my Douglas DC−3 / C−47 twin engine control line models. A 30 A ESC with a 3-cell (3S), 1300 mAH LiPo completed the package ...

"Unlike large commercial airports, smaller airstrips lack the infrastructure to ensure the safe navigation of aircraft for automatic landings. Now, researchers at the Technical University of Munich (TUM) and TU Braunschweig say they have demonstrated a completely automatic landing with vision assisted navigation that functions properly without the need for ground-based systems. The research is detailed in the Journal of the Institute of Navigation. The team point out that large airports are equipped with an Instrument Landing System (ILS) which allows ..."

"The X-59 QueSST, a new supersonic demonstration aircraft that US-based aerospace firm Lockheed Martin is building for NASA that the agency hopes will reduce the ground-level intensity of sonic booms over land, has another interesting design feature besides the updated aerodynamics: it went with a 4k display in the front of the cockpit instead of a forward-facing window. Opting for a 4k instead of a window certainly seems like an unorthodox choice when it comes to the cockpit of a plane, but that's what Lockheed Martin has done with their new X-59 Quiet Supersonic Technology, or QueSST, aircraft. NASA released an image of the cockpit of the X-59 QueSST that shows three displays at the front of the cockpit ..."

Airplanes & Rockets website visitor David T. wrote asking about locating an article where the author reports on having initially tried aero−towing by a powered airplane with the tow line connected to the tail of the tow plane. I have never seen that method tried, and this article demonstrates why it is not commonplace. Disaster evidently resulted, so the author ended up connecting the tow line to the wing hold-down bolts and success ensued. This is the only aero-tow article I could find in the 1975 year range that David referenced, but it is not what he was looking for. If you know of an article that contains the experience he requested ...

"Unmanned aerial vehicle (UAV) designers at Insitu Inc. in Bingen, WA, will build 34 ScanEagle small UAVs for the governments of Malaysia; Indonesia; the Philippines; and Vietnam under terms of a $47.9 million U.S. Navy order in late June. Officials of the Naval Air Systems Command at Patuxent River Naval Air Station, MD, are asking Insitu to provide 12 ScanEagle UAVs for Malaysia; eight for Indonesia; eight for the Philippines; and six for Vietnam. Insitu also will provide spare sensor payloads, spare and repair parts, support equipment, tools, training, technical services, and field service. Insitu is a subsidiary of the Boeing Co ..."
The No. D4 Menasco Trainer kit was manufactured by the Paul K. Guillow Company beginning in the late 1930s. The date on the plans is 1939. It was given to me by Mr. Steven Krick from part of his very large collection of vintage model airplane kits. It might be one of the earliest surviving Guillow kits. The Menasco Trainer has a diminutive wingspan of just 7-9/16 inches. No box accompanied the kit parts. The only balsa provided was square strips die cut from 0.050" (3/64") sheet, and a block for the nose. The hardwood thrust button arrived broken into four pieces, so I carefully glued it back together. The remaining parts including wing ribs, curved tip pieces, fuselage formers (0.032" material), and even the propeller blades (0.012" material) are printed on stiff card stock ...