The National Association of Rocketry (NAR) has been around since 1957. At one time, the Academy of Model Aeronautics (AMA) was pretty tightly joined with them in covering model rocketry events and promoting model rocketry. In fact, for while there was space allotted in American Aircraft Modeler, AMA's monthly magazine, for model rocketry. From February 1968 through August 1969 there was a newsletter feature entitled "Model Rocketeer" in addition to a separate article, often written by G. Harry Stine. A complete list of all editions is provided below.

The NAR and AMA still work together. For example, the National Aeronautic Association (NAA) delegates authority for aeromodeling and spacemodeling to the Academy of Model Aeronautics (AMA), who has in turn delegated Spacemodeling (model rocketry) to the NAR.
Click the NAR logo to the left and go to the membership page of today's National Association of Rocketry. You can read a sample edition of the NAR's magazine, Sport Rocketry, by clicking the thumbnail image to the right (here is part 2).
Model Rocketeer
Oct 1968 (none)
Jan 1969 (none)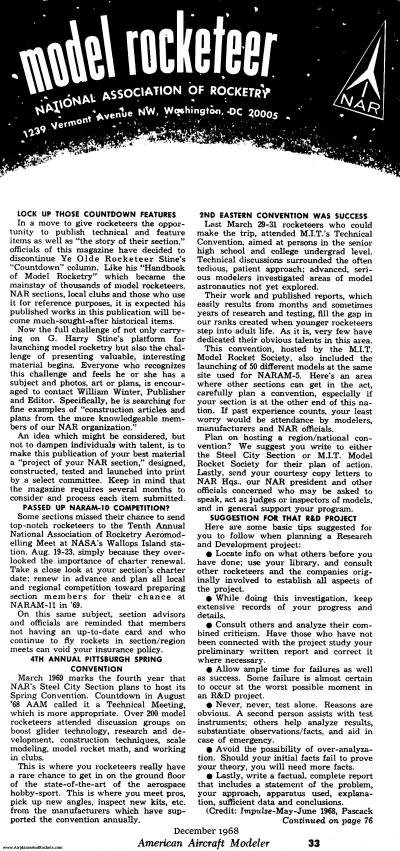 (click for larger version)
---
Page 76 (continued from page 33):
Valley Section, NAR, Harrison, N. J.; Editor: Bob Mullane-NAR 4157)
SATURN-V APOLLO PLANS FROM NARTS
An interesting, short time only offer is being made to NAR members and nonmembers alike to purchase from NAR Tech Services, original, finely detailed plans of NASA's Saturn-V Apollo space vehicle. The plans, for $1.50 per set while they last, consist of four sheets measuring 11 x 45 inches.
This offer to rocketeers and collectors of the official NASA scale drawing will only be available to the general public for two months. All other items from NAR Tech Services, 511 South Century, Rantoul, Ill. 61866, are for NAR member purchase only and must include their NAR number. For the uninitiated who have never laid eyes on NASA plans for their big birds, a rare experience is in store for you when you first unfold this set on America's giant spacecraft.
SHORT BURSTS FROM THE PAD
One NAR Section, The NAR Orbiters of Rochester, N. Y., is taking steps toward establishing a permanent launching site in Monroe County. Recently, the section flew over 100 rockets with all but one recovered, despite the presence of some max winds for model rocketry. The superintendent of Monroe County Parks was a distinguished visitor .... Members of Fairchester Section, Stamford, Conn. claim second largest NAR section in U.S. with 50 on rolls. Any disputes?
Send your section calendar of events in for announcement.
Posted October 16, 2020