The National Association of Rocketry (NAR) has been around since 1957. At one time, the Academy of Model Aeronautics (AMA) was pretty tightly joined with them in covering model rocketry events and promoting model rocketry. In fact, for while there was space allotted in American Aircraft Modeler, AMA's monthly magazine, for model rocketry. From February 1968 through August 1969 there was a newsletter feature entitled "Model Rocketeer" in addition to a separate article, often written by G. Harry Stine. A complete list of all editions is provided below.

The NAR and AMA still work together. For example, the National Aeronautic Association (NAA) delegates authority for aeromodeling and spacemodeling to the Academy of Model Aeronautics (AMA), who has in turn delegated Spacemodeling (model rocketry) to the NAR.
Click the NAR logo to the left and go to the membership page of today's National Association of Rocketry. You can read a sample edition of the NAR's magazine, Sport Rocketry, by clicking the thumbnail image to the right (here is part 2).
Model Rocketeer
Oct 1968 (none)
Jan 1969 (none)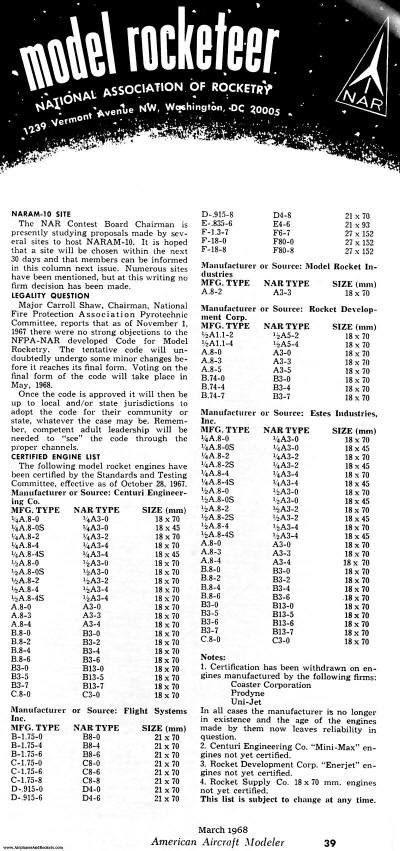 (click for larger version)
Posted October 16, 2020