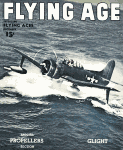 One of the motivations for posting these photos from a 1945 issue of Flying Age magazine is the appearance of an F2G Corsair, of which I own a Cox control line model from back in the 1960's. Having been published shortly after the end of World War II, there are some things being shown that probably would not have been declassified a year earlier, like the De Havilland Vampire jet airplane. I have to admit to not knowing what the "pannier" was mounted to the belly of the converted Halifax bomber. A pannier is a basket, as most cyclists probably know. The word derives from the Old French "panier," meaning bread basket. Another bit of news to me was the "Lily" portable sea-drome that simulated aircraft carrier conditions to help train pilots for takeoffs and landings on the oceans. Another very interesting item is the "tube" which housed three Jake reconnaissance planes aboard a giant "Jap" submarine...
Flying Aces magazine featured a monthly "Aviation News" column that covered both model and full-size aviation happenings across the country and on foreign soil. This 1934 issue reported on the land-based "lighthouses" which were established throughout the land in order to guide airplanes from airport to airport. Not much in the way of radio direction finding was available at the time, and this method was more consistent and reliable than having farmers build bonfires in their fields for pilots to look for. "Dead reckoning" was still the order of the day back then. Compared to today where only in the most remote areas are lacking any manmade visual object to positive identification while navigating, real "seat of the pants" skill was required to fly cross-country routes without getting lost. Nowadays, GPS-linked and/or inertial navigation systems can flying an airplane from point A to point B without any assistance from a human. Also told...

This angled, twin rotor, no-tail-rotor (NOTAR) configuration for a remotely controlled helicopter was pioneered by Kaman Aircraft Corporation in the 1950s, and is still a unique part of their product lineup today. Per their website, "The Unmanned Aerial Truck (UAT) continues a Kaman tradition of pioneering unmanned helicopters. In 1957, Charles Kaman, founder of Kaman Corporation, created the first pilotless aircraft." The embedded video below is a 1957 edition of the "You Asked for It" television show, where host Jack Smith reported on a demonstration of the craft. It is amazingly stable and easy to fly, by a pilot in the cockpit, from a ground-based remote control station, or from a remote control unit located in another airborne helicopter. As you will see, this probably qualifies as the first practical first-person-view (FPV) remote controlled aircraft...
"The U.S. is seeking to develop a massive new seaplane known as the Liberty Lifter that will harness the ground effect to transport military payloads over long distances. An X-plane project under the direction of DARPA, Liberty Lifter will be designed to operate at sea for weeks at a time, capable of both water and traditional runway landings. When traversing long distances across water, the seaplane will seek to exploit the ground effect, flying just a few meters above the sea's surface to reduce drag and allow the aircraft to operate with high efficiency. The concept has been successfully exploited in the past by the Soviet-era ekranoplans. Known as Project 903, the Lun-class ekranoplan MD-160 came into service in 1987, using the ground effect for efficient military logistics in and around the Caspian Sea. Just one model was ever fully built..."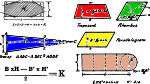 The May 1934 issue of Flying Aces magazine contained another installment in the "Principles of Model Building" series it ran for many months. This particular article introduces formulas for calculating the area of various shapes ranging from a simple rectangle to circles, parallelograms, triangles, trapezoids, and more. It also demonstrated how to break irregular shapes into individual constituent shapes, calculate the areas of each, and then add (or subtract) them for a total area. It is a relatively simple procedure for anyone familiar with basic geometry, but many modelers are not inclined toward the technical side of the physics and mathematics which define govern flight. Calculation of area is necessary for determining wing loading, control surface are ratios, volume (a bit more complicated, but easily an extension of area calculation in three dimensions), etc. As a side note, while preparing the sketches for posting here, I saw in Fig. 36 the definition of pi (π) and due to the low original printing quality, the decimal point was barely visible so it appeared to be at most a tiny random dot. The "1" is slanted so it looked like a division line, so at first I though the author was giving π = 3 / 4 as a fractional estimate of pi, which of course at 0.75 is way off of the standard estimate of 3.14. I therefore inserted a prominent decimal point so the 3.14 would be obvious...
"Brothers is a place that has somehow slipped outside the passage of time. Located in a sea of sagebrush in central Oregon, this former stagecoach stopover once serviced horse-drawn migrants bound for the Willamette Valley. When cars replaced carriages, the town transitioned to a highway fill station, one of few in this arid and isolated expanse ... A clutch of attractive prefab homes with nearby sheds, scrub pines, and satellite-dishes indicate some kind of human presence, and a red and white schoolhouse is freshly painted ... The view from the picnic tables is the same as from anywhere in Brothers: sage, rabbitbrush, greasewood, and cheatgrass to the horizon. But you can turn southwest on the right afternoon for a surprise: the unmistakable snarl of rockets erupting from the steppe follows smoke trails across the sky. Thanks to the nonprofit organization OregonRocketry, Brothers has outlasted the surrounding ghost towns..."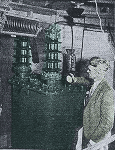 1934 was still riding the back of the high voltage craze popularized by Nikola Tesla at the turn of the century. Super high voltage spark gap transmitters were still being used in long distance communications for special applications. William Haight was one of many people engaged in weather manipulation - both its creation and destruction. Transportation, agriculture, and recreation would greatly benefit from the ability to locally and temporarily control weather. This story of Mr. Haight's high-voltage "electrodrome" machine appeared in the May 1934 issue of Flying Aces magazine. Another version of this electrodrome article by author Mel Wharton, entitled "Eliminating the Peril of Fog," appeared in the April 1934 edition of Flying magazine. There he says, "Repeated tests have shown that the operations of dispersing fog is most effective at about 600,000 cycles - though work is done all the way on a range from 500,000 to 1,500,000 cycles. The machine is capable of developing 500,000 volts, but only a fraction of this voltage is found necessary." A 4½ horsepower gasoline engine-powered generator provides the voltage...
It's the age-old problem of 20% of the people doing 80% of the work, or maybe it's 10% of the people doing 90% of work. In 1957 when this issue of American Modeler magazine was published, clubs were suffering under the same lack of willingness on the part of its members to do little (or no) more than pay annual dues and let someone else run the club business, contests, and promotions. The author here makes a few suggestions for how to get more people to participate in activities. A real sign of the times is how one idea was to segment aeromodeling clubs into groups focusing on free flight, control line, and the newfangled radio control. I guess there are very few "diverse" clubs these days. BTW, the article refers to the boy in the first photo as both Billy Swope and Billy Snope. If you know...
Airplanes and Rockets website visitor Lars B. wrote from Sweden requesting that I scan this "Wind Flying" article from the September 1972 edition of American Aircraft Modeler magazine. It describes a method for replacing engines and motors with human power for preforming some pretty impressive C/L aerobatics on windy days. Basically, you drag the model airplane around on its control lines, which often required not just turning in a circle while standing in one place, but walking around a small circle in order to get more speed. If there is any wind, you need to put extra effort into the pulling when moving into the wind. I can remember doing this as a teenager, only I did it with the engine in place but not running - usually because I could not afford to buy enough fuel to fly as often as preferred...
"The relatively simple and now quite pervasive quadrotor design for drones emphasizes performance and manufacturability, which is fine, but there are some trade-offs - namely, endurance. Four motors with rapidly spinning tiny blades suck up battery power, and while consumer drones have mitigated this somewhat by hauling around ever-larger batteries, the fundamental problem is one of efficiency in flight. In a paper published this week in Science Robotics, researchers from the City University of Hong Kong have come up with a drone inspired by maple seeds that weighs less than 50 grams but can hold a stable hover for over 24 minutes. Maple seed pods, also called samaras, are those things you see whirling down from maple trees in the fall, helicopter style. The seed pods are optimized for maximum air time through efficient rotating flight, thanks to an evolutionary design process that rewards the distance traveled from the parent tree..."
Flying Aces magazine had a regular feature of aviation humor entitled "Wisecrack-Ups." You can tell from the gag lines and topics that it reflects a very different time that was the 1930s. December 1939, when this issue was published was, was very shortly after World War II had begun in Europe, yet one of the comics has an enemy observation balloon, Sopwith Camels, and Fokker D7s, left over from World War I. Most of the content is uncredited, except for the artwork. Mention is made of the G.A.R., which is not familiar to me. The best thing I could come up with for it given the era is maybe the Grand Army of the Republic...
When I first saw this article from a 1946 edition of Radio News, I did a double-take on the author's name, thinking it was written by long-time model aviation author and magazine editor William "Bill" Winter. It was actually done by a fellow named Winters (not Winter). An enthusiastic radio control (R/C) evangelist in his day, Bill Winter wrote many pieces for electronics magazines such as Popular Electronics. As I have noted in the past, hobbyists in the electronics realm, as well as in the fields of aircraft and rocket design, contribute mightily to the state of the art. Such is also the case in many other arts and sciences. Here we have a report of some of the earliest radio controlled flying "drones," as we call them today. They are a far cry from the palm-size, gyro-stabilized examples available from commercial distributors nowadays. American film star Reginald Denny was a pioneer in the development of remote controlled drone aircraft...
These images were scanned from my 1976 yearbook for Southern Senior High School in Harwood, Maryland.. Only pages with information on Seniors is included. Birthdates have been covered over, but everything else remains. Please let me know if you would like your picture and/or information removed. On the other hand, if you would like to send additional information for posting or would like me to send you the full-resolution scan of your page, then please send me an e-mail. A full list of all the names that go with these photos can be found at the bottom of this page. Having them in text format (versus a photo) will allow search engines to find your name and associate it with Southern Senior High School. Oh, and yes, all the photos are in B&W; there are only eight pages with color in the entire book...
As is the case with so much as you get older - and especially when you've gotten a LOT older - it is rather sad to be reminded of all the things that played a large role in your lifetime that are no longer around (both people and things). Back in the day, I never considered that some time in the distant future so many of the things I took for granted would not exist any more. Montgomery Ward, Sears & Roebuck, Pontiac, Oldsmobile, Hechinger Lumber, Woolworth, Toys R Us, Howard Johnson, Circuit City, Eastern Airlines, Western Auto, Dart Drug, Radio Shack, Allied Radio, Heathkit, RCA, A&P Grocery, Pantry Pride, KB Toys, and many more that do not immediately come to mind were the brick and mortar places we of my generation (born in 1958) knew so well. In the model building world, a similar list of long gone and not so long gone companies could be made as well. Sterling Models, of course, is amongst them, along with Aamco, America's Hobby Center, Marks Models, Airtronics, Berkeley Models, Kraft Radio, Hobby People, Jetco, Cox, Scientific Models, Tatone, and many more. For nostalgia's sake, here is an advertisement from a 1960 issue of American Modeler magazine, which itself is no longer in existence...
Control line speed has been around for many decades. As with all other areas of specialty, the state of the art has advanced significantly since the time of Bill Wisniewski's reign as king of the C/L speed domain with his venerable Pink Ladies. Today's C/L speed models have a single long inboard wing and often have computer-designed airfoils and fuselage shapes. In the 1958 timeframe when this story appeared in American Modeler magazine, the record speed was in the 160 mph range. The video below shows a new F2A world speed record of 208 mph being set in October of 2009...

This website exists entirely on the support of its visitors by way of a small percentage earned with your Amazon.com purchases. It typically works out to less than $10 per month. That barley covers the domain registration and secure server fees. If you plan to buy items via Amazon.com, please begin your shopping session from the AirplanesAndRockets.com website so that I get credit for it. Doing so does not cost you anything extra. Thank you for your support.
On August 26, 2013, Melanie and I toured the inside of this Consolidated PBY-5A Canso (PBY-5 is the Catalina) while it was on display at the Erie International Airport. It was on tour by a crew from Canada, which is appropriate since it was this particular airplane was manufactured in Canada in 1944 by the Vickers company. World War II ended before it could ever see combat reconnaissance duty. The PBY-5A has a wingspan of 104 feet 0 inches and is powered by a pair of 1200 horsepower Pratt & Whitney R-1830-92 Twin Wasp radial engines. Top speed is 179 mph. It sported six .303 Vickers machine guns and could carry up to 2000 pounds of bombs and depth charges. Hopefully, these photos will be of use to scale model researchers...
Whenever I look at articles like this one in American Aircraft Modeler magazine of the 1967 model rocketry nationals (NARAM-9) showing people from 40+ years ago, I always wonder what they are doing today. Kids that were 16 in 1967 are 60 today! Many of the adults, if they are still living, are in their 80s. Are they still flying model rockets? Are they in good health? Has life been good to them? Time can be a cruel master, or it can also be a benevolent guardian. But, at the time nobody was thinking about where they would be or what they would be doing in the year 2011; their only concern was the competition at hand and having a good time. Note the number of Ph.Ds in the crowd! Back in the day, model rocketry was a big part of preparing young men (and a few young women) for a career in astronautics...