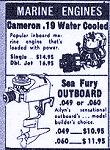 Outboard motors for model boats have been available for a long time. Advertisements in modeling magazines from the 1950s (as far back as my collection goes) has plenty of them. Ailyn's Sea Fury outboard motor and the Fuji outboard motors are just a couple examples for which I have copies of the ads. I don't know if any are still manufactured today, but if you hang around eBay long enough, you will find them up for auction. As of this writing, there is a Fuji .15 outboard motor up for bid. It appears to me in remarkably good condition. These two advertisements were scanned from 1950s vintage American Modeler magazines, offered by America's Hobby Center (no longer in business) in New York City. According to the U.S. Bureau of Labor Statistics' inflation calculator the $29.95 price in 1957 would be $313.59 in 2011 money. These vintage motors usually sell at about the inflation-adjusted price, so when you see them go for a couple hundred dollars, it really is not so much in today's money...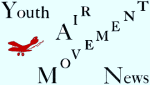 The flying business was big business in the early days of aviation. From the beginning, specialized training and certification was needed to be trusted in the air with mail, cargo, and the lives of strangers. As with today, a flyboy could teach himself to fly and put his own neck on the line (only with ultralights now, though), but anything more meant graduating from a college curriculum and/or getting training from the military. The Civil Aeronautics Authority (CAA, now the Federal Aviation Administration cum FAA), oversaw non-military flights and its Civilian Pilot Training Program (CPTP) regulated and certified private schools for teaching aspiring pilots aerodynamics, mechanics, weather phenomena, airframe and powerplant maintenance, rules and regulations, public relations, and other necessary skills. This "Youth Air Movement News" column from the December 1939 issue of Flying Aces magazine reported on the progress of the program, and mentioned here that women were being permitted into the flying schools as well...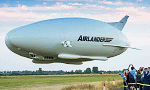 "The 2,000 rpm permanent magnet electric motor has been developed in a partnership with Hybrid Air Vehicles and the University of Nottingham, where Collins has begun basic characterization testing of the motor. Collins said it is targeting specific power density levels of 9kW/kg and 98% efficiency using a novel motor topology and composite construction. The company is designing the motor at its Electronic Controls and Motor Systems Centre of Excellence in Solihull where it is also developing its 1 MW electric motor and motor controller for the Pratt & Whitney Canada (P&WC) regional hybrid-electric flight demonstrator. The two motors are part of Collins' technology roadmap for the development of a family of electric motors that can be appropriately scaled to meet the needs of hybrid-electric and all-electric applications across multiple aircraft segments..."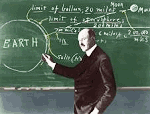 It was on March 16, 1926, that Robert Goddard made history in Auburn, Massachusetts, by successfully launching the world's first liquid fueled rocket. The propellant was a mixture of gasoline and liquid oxygen. That was a mere ten year prior to this article that appeared in Boys' Life magazine. Author T.E. Mussen comments that as of the writing, "thus far the rocket has carried neither men nor recording instruments, nothing more than the source of its own propelling power." Breathtaking speeds of 700 mph had been attained and altitudes of 7,500 feet staggered the imagination with impossible proposals - like someday sending human beings to the moon. The oft referenced American Rocket Society (ARS) was created in 1930, and was the leading professional group for advancing rocket science. The group was planning for such missions three decades before they became reality. ARS was merged with the Institute of Aerospace Sciences in 1963 to become the present day American Institute of Aeronautics and Astronautics (AIAA)...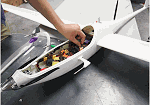 Here's what you get when a non-modeler writes a headline about an e-powered sailplane. Clearly, the photo shows a motor in the nose, and unless it is hauled aloft by the Ingenuity coaxial helicopter (which it won't be) or some sort of winch is installed on the surface (which won't be), the craft needs a motor. It will also need wheels. The story begins begins: "Eight active spacecraft, including three operated by NASA, orbit Mars, gathering imagery of the planet's surface at a resolution of about 1 foot per pixel. Three rovers traverse the ground, mapping small areas of the planet with greater precision. But what lies in the hundreds of kilometers between the rovers and the orbiters - including atmospheric climate processes and geological features like volcanoes and canyons - is often of most interest to planetary scientists. 'You have this really important, critical piece in this planetary boundary layer, like in the first few kilometers above the ground..."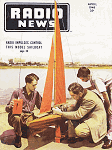 As you can tell from all the vintage modeling and electronics magazine I own and use to post various article, I am prone to waxing nostalgic about the days of yore. Being born in 1958, I am part of the last generation of people brought up at a time when patriotism, courtesy, manners, and civility was taught in school and in the public square by fellow citizens and even politicians. However, there are limits to my desire to enjoy the environment of the good 'ole days, and one of them is the need to build (often), tune, and repair nearly all the electronic equipment used in model aviation and model boating activities. This "Radio Controlled Model Sailboat" article from a 1948 issue of Radio News magazine is a prime example of what I mean. While knowing how to do all the work involved in the system created by these two Raytheon engineers is a great achievement, the work involved is extremely time consuming and takes away significantly from the time actually spent enjoying sailing the boat. Modern compact, powerful, reliable, relatively inexpensive, fully proportional, feature-packed radio systems are much preferred over the former. Here is a short tale of my own venture into R/C sailboating with a Thunder Tiger Victoria sloop, circa 2000...
"Lockheed Martin and the U.S. Air Force have successfully conducted a hypersonic-boosted flight test of the AGM-183A Air-launched Rapid Response Weapon (ARRW) from the service's B-52H Stratofortress. The successful flight demonstrated the weapon's ability to reach and withstand operational hypersonic speeds, collect data for use in further flight tests, and validate safe separation from the aircraft to deliver the glide body and warhead to designated targets from significant standoff distances. Dave Berganini, vice president of Hypersonic and Strike Systems at Lockheed Martin Missiles and Fire Control said that the need for hypersonic strike capabilities is critical to the USA, with the successful test helping to maintain 'an accelerated and rigorous timeline.' Additional booster and all-up-round test flights will continue throughout 2022, before reaching Early Operational Capability (EOC) in 2023..."
Bill Hannan was a prolific designer of and author of magazine articles and books about free flight models. His contributions spanned more than fifty years. Many of his designs, like the Flyangle, targeted beginners. It appeared in the March 1970 issue of American Aircraft Modeler magazine His goal was to present models that were easy to build and that were constructed in such a manner as to virtually guaranty success. Based on the inherently rigid, warp resistant triangular features of the AMA's Delta Dart, Hannan's Flyangle introduces a built-up fuselage with a triangular cross-section. It is the next logical step up from the Delta Dart. Airplanes and Rockets website visitor Ray M. wrote to request this article. It's nice to know there are still purists out there building these models...

This website exists entirely on the support of its visitors by way of a small percentage earned with your Amazon.com purchases. It typically works out to less than $10 per month. That barley covers the domain registration and secure server fees. If you plan to buy items via Amazon.com, please begin your shopping session from the AirplanesAndRockets.com website so that I get credit for it. Doing so does not cost you anything extra. Thank you for your support.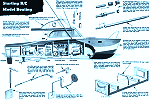 Radio controlled (R/C) model boating has been around since the 1940s, but prior to about when this "Starting R/C Model Boating" article appeared in the 1960 Annual issue of Air Trails magazine, the electronic gear required for operation was primarily in the realm of those who were adept enough at electronics to design and/or build their own equipment. Commercial rigs were available on the open market, but they were expensive. Most craft built in the early days of R/C model boating were scale models of leisure craft or of military ships. High speed racing boats, although they could be found, came later as equipment got smaller in size and weight. Unlike today where ready-to-run radio controlled boats can be purchased for a relatively low price, in 1960 the boating enthusiast had to build most of the running hardware himself using tubing, wire, and sheet metal. Producing something like this electric motor powered cabin cruiser was a monumental project that took a lot of time. Of course most people had more time and will to devote to constructive hobbies before the era of 500 television channels to zombie out on, or Internet access from computers or cellphones...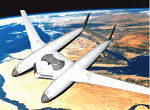 Here is a unique concept called the "Gravity Plane" that theoretically can take off, climb to altitude, cruise, descend, and land using only stored helium and built-in air compressors. Conceived of by Robert D. Hunt of Hunt Aviation†, it purports to be entirely self-powered, but in reality we know that conservation of energy requires that 100% efficiency be realized in order for that to be so. Still, it is an interesting idea. There are currently automated, unmanned submarines that employ a similar principle for bobbing up and down through the oceans to collect research data. While there are lots of technical hurdles to overcome, it is an approach to "clean" flight that should be explored further, if for no other reason than to rule it out as a possibility. Maybe this would make a good radio controlled modeling project for someone. I'd do it, but just don't have the time. Come to think of it, there might be some stimulus money out there for funding such a green concept...
Flying model helicopter development understandably took a lot longer than airplanes because of the complex aerodynamic and mechanical issues that needed to be conquered for successful operation. A few direct drive rotor systems appeared early on, with the engine mounted in the fuselage, but a counter-torque force needed to be dealt with as the fuselage wanted to rotate in the opposite direction as the rotors. Ken Norris' implementation as shown in this 1961 issue of American Modeler magazine, solved that problem by mounting a pair of engines on a boom that was part of the rotor head assembly. Doing so meant the only torque transferred to the fuselage was due to any friction between the free-wheeling rotor shaft and the bearings, and due to accelerations during rotor speed changes. The physical size...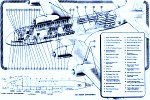 The Douglas DC−3 (C−47 was the military version designation) has always been my favorite twin engined commercial airplane. Its nickname of "Gooney Bird" amongst troops is undeserved IMHO. The DC−3 is credited with launching the commercial airline industry, and its C−47 version was listed by Dwight D. Eisenhower as being on the most important tools for winning World War II. Edward F. Burton, Chief Engineer at Douglas Aircraft Company, runs through the evolution of the DC−3 and it predecessors and descendants in this December 1945 issue of Flying Age magazine. December of 1935 marked the maiden flight of the DC−2, was was a direct follow-on the the DC−2. A single DC−4 (4 engines) was built and delivered to Japan. Then a DC−5 was built (high-wing version of the DC−3) but never went into production. The 4-engine DC−6 entered commercial service in 1946, followed by the very popular DC−7. A coaxial, counter-rotating pusher prop model DC−8 (not to be confused with the 4-engine commercial DC−8 jet) never made it off the drawing board. The next iteration was the C−54, which...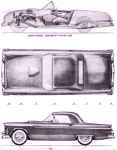 In 1955, Ford introduced the Thunderbird convertible as its first true "modern" personal luxury car. It was not promoted as a sports car, although its 2-seat configuration certainly provided the requisite look. As with all new model years, the 1955 Ford Thunderbird was introduced to the public in the fall of 1954, in time for the December edition of Air Trails to publish a series of scale pencil drawings by Jefferies. The artist much have had access to at least some level of factory drawings because of the detail in the x-ray views; either that or he had an exceptional ability to visualize such things based only on external observations. If you are a Thunderbird fan, then you will appreciate these drawings...
"Eviation's sleek, all-electric airplane demonstrator–dubbed Alice–reportedly completed a low speed taxi testing program this month at Arlington Municipal Airport (KAWO), in Washington, north of Seattle, and is "gearing up" for its first flight "this summer." The FlightGlobal report, from the European Business Aviation Conference and Exhibition (EBACE 2022) in Geneva, quotes interim CEO Gregory Davis, who said low-speed ground testing finished on May 2, with Alice achieving a maximum speed of 86 kts. High-speed taxi testing won't be attempted until Alice has received an experimental permit to fly, Davis told FlightGlobal Tuesday. In April, Eviation told FLYING it was conducting a parallel process of ground testing and safety board reviews. Based on the ground test results—Davis told FlightGlobal that Eviation has slowed down its timeline..."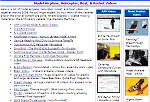 Here is a list of model airplane, helicopter, rocket, and boat videos put together around 2008. As you might expect, by now many of the websites and/or the original content are gone. Where possible, I located missing material on the Archive.org website (the Wayback Machine). Links I couldn't find anywhere have been deleted. Many of the videos are ones I created for the Airplanes and Rockets website...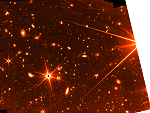 This is incredible, and the best is yet to come. "We're less than one week away from the July 12, 2022, release of the first science-quality images from NASA's James Webb Space Telescope, but how does the observatory find and lock onto its targets? Webb's Fine Guidance Sensor (FGS), developed by the Canadian Space Agency, was designed with this particular question in mind. Recently it captured a view of stars and galaxies that provides a tantalizing glimpse at what the telescope's science instruments will reveal in the coming weeks, months, and years. FGS has always been capable of capturing imagery, but its primary purpose is to enable accurate science measurements and imaging with precision pointing. When it does capture imagery, it is typically not kept: given the limited communications bandwidth between L2 and Earth, Webb only sends data from up to two science instruments at a time. But during the week-long stability test in May, it occurred to the team that they could keep the imagery that was being captured because there was available data transfer bandwidth. The engineering test image - produced during a thermal stability test in mid-May..."
As was the case with many magazines up through about the 1970's, comics reflecting the theme of the publication was often found within the pages of each issue. This 1960 edition of American Modeler magazine is a good example. It contained no fewer than six model aviation themed comics, one related to a particular advertisement for the Fox Glo−Master Battery and Plug, and five stand-alone comics. The Table of Contents (TOC) page often had a "silent" comic with no dialog or caption. In fact the comic that spanned both pages 42 and 43 is like typical TOC comic. The control line combat scenario on page 49 reminds me of something you'd see on the old BattleBots show (which I haven't seen in many years, but is evidently still running). Anyway, enjoy them all!