Santich's Enya-powered Chipmunk took 2nd in scale. Based on Stafford kit. 6 1/2 lb.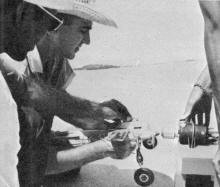 Capt. Hawkins adjusts needle on ST 15 FAI speed model. Uses carved 6-7 1/2 prop.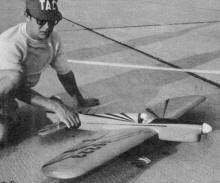 Fox 35 powers Sgt. Whiddon's Detroiter to second in stunt with 403.5 points. 38 oz.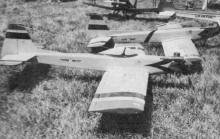 Capts. Koger and Walker entered original design Pattern ships. Placed 1st and 2nd.
Top model aviation enthusiasts came from all over the world for the 20th U.S. Air Force Worldwide Championships. Thirty-four airmen who had qualified for a shot at the finals were sent to Scott Field, near Belleville, Ill., to complete, not only for Air Force honors, but also for a place on the team that will represent the Air Force at the Glenview Nationals.
Qualifiers for this meet competed in elimination contests within their own Commands. Transportation and arrangements to transport the contestants and equipment to the Finals and return were made out of funds obtained through recreational activities.
Air Force Team members are chosen on the basis of points, requiring contestants to compete in events usually outside their normal modeling element. Qualifying for the Team are: Capt. Bob Adair, Capt. Keith Trostle, Capt. Hoyt Hawkins, Sgt. Bert Dugan, and Maj. Philip Bayly. Assisting at the Nats will be the next five qualifiers: Capt. Dick Stiles, Sgt. Larry Miller, Edgar Corson, Maj. Frank Mock and Sgt. Robert Cooley. RC Specialist will be Sgt. Dan Santich. Air Force awards went to Capt. Keith Trostle as high point winner and to Pacific Air Force as high point Command.
FF scale Fairchild 24 by Sgt. Dugan uses Cox 020. Always a scale favorite.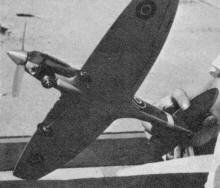 Capt. Trostle likes realistic 1/2A Proto models. Spitfire uses lefthand shaft TD.
The week's activities were celebrated with a banquet on Sunday evening. Base Commander Col. Kenneth Clark and MAC Commander Gen. Catton gave welcoming addresses. In addition to awards, special recognition was given to CD Eugene Comontofsky, retired AF officer, and to the local modelers who, through coordination with the Greater St. Louis Modeling Assoc., worked as judges and officials.
Project Officer John Gay reports that this is the first Championships at Scott Field and rumor has it the 1971 Championships may also be held there.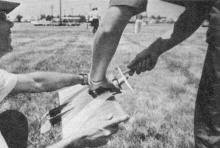 ST-powered Voodoo placed 3rd in Combat. Sgt. Cooley uses chickenstick to start it.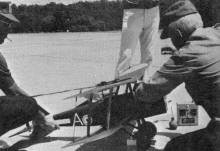 From TF kit, Sgt. Rich built RC scale-winning SE-5. Power is Enya 60.
Sgt. Ford's biggest is the C-5A Galaxy. The 28 wheels can be retracted too.