Ah, the days when glow fuel engines were the rule rather than the exception! Sure, they were messy, noisy, and could be finicky, but other than maybe an idling 8-cylinder with a high-lift cam, Edelbrock intake manifold, Holley 4-barrel carburetor, and a set of Hooker headers, there are few nicer sounds than a model aircraft engine as it comes to life. Sure, I know that modern brushless electric motors are highly reliable and extremely powerful, don't annoy the neighbors, and never leave a gooey mess that takes half a roll of paper towels to clean off your airplane (or helicopter), but those of you who grew up flying in the pre-electric-flight years know what I mean. I confess to having switched to electric back around 2005 - except for Cox .049 engines. McCoy "Red Head" engines were very popular back in the day, and command pretty good prices on eBay today when in good condition. New in the box (NIB) examples can bring a couple hundred bucks!
See all Model Airplanes News items.
Engine Review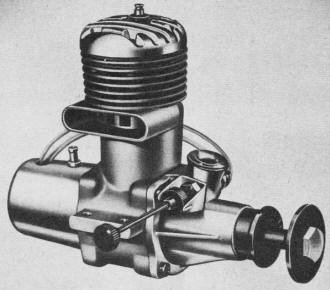 By E. C. Martin
This newest "Mac" is more than just another shaft valve engine. For sport or stunt, it nevertheless nearly equals the Red Head for high performance.
A new McCoy always creates a stir. The speed fans dissect it for parts which can be profitably adapted to the Red Heads. Performance rumors radiate to the four corners of the earth, and in foreign countries the man with inside dope commands respectful attention. We have seen it happen, and it will happen again, with the .29 Front Rotor Sport for the very good reason that it is good. Previous McCoy sport engines have apparently been aimed at the low priced field, and their general quality has not been comparable with that of the famous Red Heads, but this new offering, although reasonably priced, is of Red Head standard throughout in workmanship, quality and finish, and in the performance department it comes perilously close to the .29 Red Head and without a single ball bearing. Added to this it has the important virtue of flexibility with powerful suction to put it in direct competition with the best Stunt engines available. McCoy performance with stunt characteristics is news.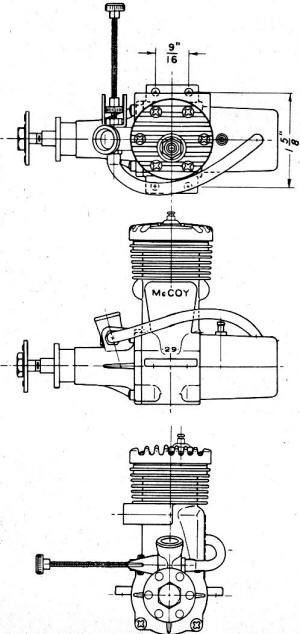 Perhaps more than any other line, the Macs have a very pronounced family resemblance, and to many this engine will appear just like the older front rotor jobs, and they may be inclined to dismiss it as such. The body style may be the same, but let us peek under the hood. The body is right; it doesn't need changing.
Pressure die-cast Macs are not new, nor is the word "rigidity" to this column. Here we have an aluminum pressure casting with a grey etched finish that is 30 per cent thicker and stronger at all points of stress and is not only more rigid, but able to dissipate considerably greater quantities of heat. A shiny finish often looks nice, but a dull surface has far more radiation capacity. In addition to increasing the root diameter of the top two fins to accommodate the head retaining screws, the space between the second and third fins has cast-in lugs in the appropriate radial position to provide for longer tappings and reduce the possibility of stripped threads and consequent compression loss. However, it is unfortunate that the screws fitted are not long enough to take advantage of this improvement.
The bypass is slightly narrower at the ports than the older Sportsman, but appreciably wider at its junction with the crank-case, and is no doubt aimed at improving or maintaining rapid gas flow with less bypass volume so that crankcase compression pressure is increased. From the operator's point of view, this also improves starting and pick-up from low running speeds under load.
The exhaust stack is dimensionally identical with the older die-cast models except for being slightly broader round the ports, giving an easier exit to the gases emerging from the ports at either side.
A shrunk in liner is used in common with all ringed McCoys, and is interchangeable with the .29 Red Head.
Since only the front bearing housing is removable on this model, it has been necessary, in the absence of a disc valve, to blank off the crankcase at a point just clear of the crankpin. This has the appearance of a plug, but is actually part of the casting and is recessed at the back for lightness. The recess is stepped to provide location for a paper tank joint gasket and also for the rim of the tank itself. A long boss projects back from the center of the recess which is tapped for the tank retaining screw. A small but significant point is that the gasket recess diameter is identical with the crankcase internal diameter, which in turn is the same as that of all the Mac .29 engines, which means that a simple boring operation will make this crankcase suitable for Red Head equipment. However, the most exciting feature of all to those with an experimental turn of mind is the fact that with very little work this casting should lend itself to a terrific reed valve arrangement. In fact, it seems such a gift that perhaps the designer had it in mind, though this suggestion is based on pure speculation.
All mating faces are machined on this casting and sturdy mounting lugs of 3/16 root thickness complete a very good job.
The front bearing housing is a tumbled pressure casting incorporating the air intake and a press fitted bronze bushing of 7/16 bore x 1-1/4 long which adds up to a bearing area considered generous in an engine of 50 per cent greater displacement. At the crank end the bushing is heavily chamfered to reduce the thrust face to a narrow edge and allow rapid mating with the shaft during break-in. This edge is nicked in three places by small oil ways.
It may seem odd that a large bearing area reduces friction and increases performance when dealing with radial loads, when the reverse seems to hold true for thrust loads, but there is no doubt that such is the case and improvements in the thrust bearing often pay better than extensive radial bearing modifications. Older modelers will remember the superiority in their day of the plain bushed engines that boasted small ball thrust bearings, and it seems very probable that a large proportion of the advantage gained by using ball journal bearings in a racing engine arises from their secondary function of absorbing thrust.
The housing itself is rendered extremely rigid by three heavy webs which also serve to cool the bearing, and the location of the intake gives a full 7/16 of bushing length between the thrust face and intake port. The intake itself is 1/4 in. bore compared with 7/32 for the early model Red Heads and the engine is supplied "with a removable restrictor to bring the bore down to this diameter for break-in and applications demanding extra suction. A feature of this restrictor is that it changes the whole nature of the intake by filling the typical high speed trumpet entry so that a fairly long parallel bore results with good low speed characteristics.
The jet assembly is the spraybar type as fitted to the early McCoy. 19, but is equipped with a flexible needle extension 1-3/4 long, with ratchet wheel, which is interchangeable in most of the ringed McCoys. By tapping the intake holes No. 10-32, the spraybar can be replaced with Red Head equipment for straight speed.
Test: McCoy .29 Front Rotor Sports
Case hardened and ground to a very smooth finish, the crankshaft exhibits high quality throughout. With a full disc and crescent counterweight it resembles the other models except for the crankpin which is surface finished before hardening, and is likely to have even better wear characteristics. The 7/16 shaft terminates in a shallow and dead concentric locking taper and is tapped for a No. 10-32 prop retaining bolt. A 5/16 gas passage leads from the large rectangular valve port which is timed for early opening and closing.
The prop driver is a muff type of 3/4 outside diameter with a 1/4 x 1/4 projection for prop location and a lightly knurled face. A 15/16 steel washer and hex head bolt provide clamping for props between 7/16 and 5/8 hub thickness.
A standard polished .29 Red Head conrod is used which couples up to a new type of wrist pin having no aluminum end pads, and apparently made from Meehanite, or similar material, which will not score the bore.
The piston is also standard Red Head .29, pressure die-cast, diamond-turned and equipped with two rings. The cylinder head is a polished pressure casting in aluminum of general design similar to the Red Head and takes a long reach plug.
A further aluminum die casting constitutes the large capacity fuel tank, which may be rotated for side or inverted mounting, and is one of the few rear-mounted types which does not cave in when the screw is tightened too energetically. A filling tube nipple is provided and drilled holes serve as vent and fuel line connection.
In appearance and quality this is one of the most attractive McCoys produced so far. However, the most significant feature is its performance. This is a McCoy calculated to please the largest number of people, not just the pure speed fan, or the youngster wanting lots of urge for the least money, but the average fellow who likes a powerful, flexible and startable engine that does not get temperamental when the juice gets splashed about in the tank, and that will perk smoothly on a wide variety of prop sizes. This Mac has all these qualities plus the well known long wearing virtue of a good ringed engine.
Posted September 26, 2020