In the 1930s, Flying Aces magazine ran a series highlighting aviation pioneers and heros called "They Had What It Takes." The March 1937 issue featured Wiley Post. He was famous for being the first man to circumnavigate the globe alone (solo), but what really set him apart from other trail blazers was his having only one good eye. Mr. Post lost use of his left eye due to a metal shaving being thrown into it during a drilling procedure. He used the workman's compensation award to buy a Curtiss Jenney biplane, thus beginning his flying career. The Federal Aviation Administration (FAA) will issue special waivers for what is termed "monocular vision," when the corrected visual acuity in the worst eye is less than 20/200. Stereo vision (stereopsis) is considered lost at that point, but stereo vision is only effective a distances up to about 100 feet, so long distance depth perception is a matter of familiarity with how objects of known size would appear at various distances.
They Had What It Takes: II - Wiley Post - Ace of World Girdlers
1 - Post, as a youth, was a worker in the oil fields of the West, and it was at this time that he got his first taste of the air. A barnstorming pilot hired him as a parachute jumper, and he engaged in this hazardous, cloud-busting trade for two years. He did not, however, wholly give up his oil work.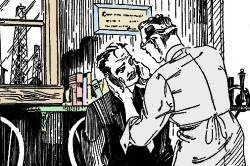 2 - Then came a terrible blow! A chip of steel from a drill rendered his left eye sightless, and his ambitions to become a flyer seemed doomed. But his determination overcame even this great handicap. He bravely went ahead, buying his first plane, an ancient Jenny, with his injury compensation money.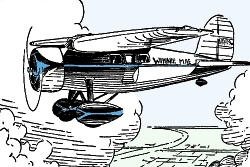 3 - Soon Post became pilot for a wealthy oil man, the plane being the Lockheed Winnie Mae. Backed financially by his employer, he won a transcontinental dash; then, with Harold Gatty as co-pilot, he circled the globe in eight days! And two years later (1933) he surpassed even this feat by girdling the earth in seven days - solo!
4 - Intrigued by the possibilities of high altitude flight, Post bought the Winnie Mae and futilely tried four times to span the U. S. via the sub-stratosphere. On each take-off he dropped his undercarriage, then landed later on the ship's "belly." His successful "set-down" in the desert, on one attempt, was well-nigh miraculous.
5 - Shortly afterward came Post's last flight. On August 16, 1935, with the famed comedian, Will Rogers, as his passenger, Post's ship went out of control when the motor quit in a take-off near Point Barrow, Alaska. Falling from a height of only fifty feet, the plane hit with terrific force in the shallow river bed. Both men were killed instantly.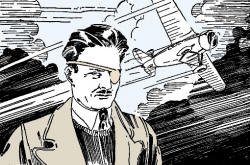 6 - Wiley Post rose to fame by surmounting odds that would have stopped most other men. Ace of the world girdlers and a foremost exponent of stratosphere flying, his name is inscribed indelibly in the annals of the air. In cutting short many further great contributions to aviation, his tragic death was a grievous blow to the aero world.
Posted October 21, 2023