For some odd reason the venue for the 1954 F.A.I. World Model Air Olympics was not mentioned in this pictorial featured in the November 1954 issue of Air Trails magazine. However, an article appeared in the July 27, 1954 edition of The New York Times newspaper stating that the event took place at Suffolk County Air Force Base in New York state. The 1955 event also occurred there according to this 1955 Air Trails article entitled "International Meets: Rubber Power Wakefield F.A.I. Free Flight 'Gas'." Do you recognize anyone here?
World Model Air Olympics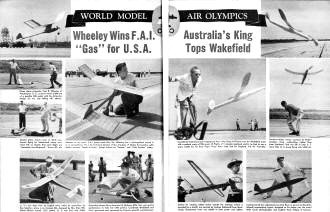 Wheeley Wins F.A.I. "Gas" for U.S.A.
Power plane champion Carl R. Wheeley of Washington, D. C., scored a total of 844 out of a possible 990 points with his distinctive design (in air, just taking off, above).
Second place honors went to Silvio Lanfranchi flying for Switzerland whose technique left no doubts that each flight was "unassisted rise-off-ground." Score: 831 points.
Member of last year's F.A.I. power team also, Mr. Wheeley has a distinguished record in U. S. competitions. He is the technical director of Ute Academy of Model Aeronautics, edits AMA's monthly "Model Aviation." Design follows his "Senator" and "Little Senator" planes.
U. S.'s Joe Elgin fires up English entry which he proxy-flew for Ron Moulten; plane is an Amazon 444, designed by Mrs. Stan Hill. Great Britain scored 1,533 points; U. S. was first with 2,404.
Defending champ Dave Kneeland of Hickman Mills, Mo., put up fine performance to take 3rd (783 points). Combined Wakefield and F.A.I. gas events were sponsored by Convair, aircraft manufacturers.
Australia's King Tops Wakefield
Considered Australia's best model plane flyer. Alan King of Victoria won the Wakefield event with a perfect score of 900 points (5 flights of 3 minutes maximum each); he had to use a spare model for his final flight. Proxy flyers took 2nd for England. 3rd for Australia.
Hands-on-knees stance assumed by Robert Dunham, Tulsa, outstanding rubber flyer, from Southwest. Bob was 5th to help U. S. team take 1st in group flying with 2,404 points.
System for winding rubber motor outside the fuselage (which is guarded by a shield) was devised by Andrew Bobkowski from Guatemala. Guatemala team was eighth in both power and rubber.
Underpowered but undaunted was entry flown in person by Kiyotatsu Miyoski representing Japan. Assigned as his helper was the noted West Coast photographer and modeler Fudo Takagi of Convair.
Posted February 13, 2021