If the distributor name, American Telasco, seems familiar, it is because they were the importers of the very popular line of Jetex engines. Allbon engines were the product of Mr. Alan L. Allbon, of Sunbury-on-Thames, England. As with in automobiles, Diesel engines were quite popular in Europe, and most of the Diesels available in the United States were imported from overseas. A few of the Allbon engines were a huge success - notably the 0.5 cc Dart and the 1.49 cc Javelin Mk I - and challenged production capacity to a point that jeopardized the company's market position as competitors moved in to fill the void. Allbon operated independently from 1948 through 1952, after which it partnered with Davies-Charlton. That means this 1954 advertisement in Air Trails magazine appeared in the partnership era. For a deep dive into the history of Allbon, check out The Early Years at Allbon, by Adrian Duncan, on the Model Engine News website.
Allbon Diesel Engines Ad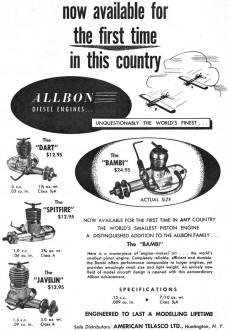 Now available for the first time in this country
Allbon Diesel Engines
Unquestionably the world's finest...
The "Dart" $12.95
.5 c.c.
.03 cu. in.
1 1/2 oz. wt.
Class 1/2A
The "Spitfire" $12.95
1.0 c.c.
.06 cu. in.
2 3/4 oz. wt.
Class A
The "Javelin" $12.95
1.5 c.c.
.09 cu. in.
3.0 oz. wt.
Class A
The "Bambi" $24.95
Actual size
Now Available for the First Time in Any Country
The World's Smallest Piston Engine
A Distinguished Addition to the Allbon Family
Here is a masterpiece of "engine-makers" art ... the world's smallest piston engine. Completely reliable, efficient and durable, the Bambi offers performance comparable to larger engines, yet provides amazingly small size and light weight. An entirely new field of model aircraft design is opened with this extraordinary Allbon achievement. Specifications . 15 c.c. .009 cu. in. 7/10 oz. wt. Class 1/2A
Engineered to Last a Modelling Lifetime
Sole Distributors: American Telasco, Ltd., Huntington, N. Y.
Posted January 30, 2021