Model boat plans are more difficult to come by than model airplane plans, so seeing this article in the August 1954 issue of Air Trails magazine for a small, free-running hydroplane was a nice find. Its simple, inexpensive construction makes it a quick build for those rare modelers that still build their own models out of wood. The Skiddin' II can easily accommodate a modern miniature radio control system and a brushless motor setup. The original model was designed for a transom-mounted glow fuel outboard engine, but those things make model boat plans look plentiful. If you really want an outboard, try eBay, and be prepared to pay a couple hundred bucks for it.
Skiddin' II Racing Hydroplane
By Frank Ehling
Who's skiddin' who? We're skiddin', too. We mean we've been having lots of fun racing this free-running scale-like outboard racing shell. Although you can put a bridle on Skiddin' II and run it in circles on the end of a tether line from a center post, the real thrill comes from letting this speedster operate on its own. That photo above shows the craft making a turn in a sheltered cove. It was running with engine turned to produce a 4-foot circle.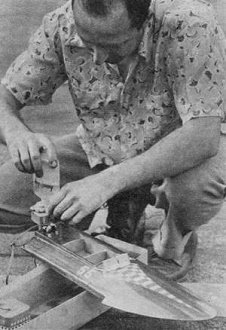 This boat is somewhat longer than the average, We wanted a real stable craft so the beginner in speed boating would have an easy time getting started, The extended length helps prevent the boat from flipping (in an inside loop!).
We used Berkeley's 1/20" thick mahogany veneer for top decking and bottom covering. No splicing was necessary since the wood is available in good size widths. It requires only staining and fuel proofing. Keep your cement off the outside surfaces and edges of the mahogany or you'll mar its final appearance.
Five quick steps make up the boat: cement bulkheads to bottom; add stringers; cement in cockpit sides; then add the top deck; follow with the hull sides.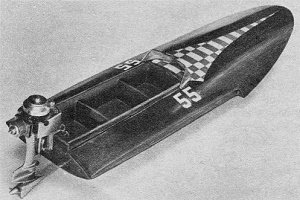 Note of caution: when changing the boat's heading (direction), don't lift the screw (prop) from the water if engine is still running. If you operate in a pool with cement sides or rock edging, protect your racer with a sponge-rubber bumper cemented to bow.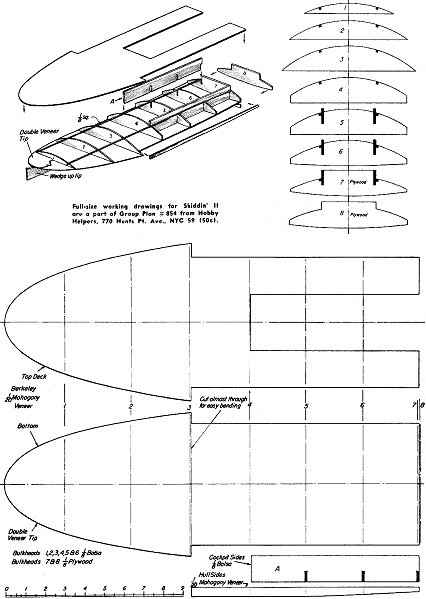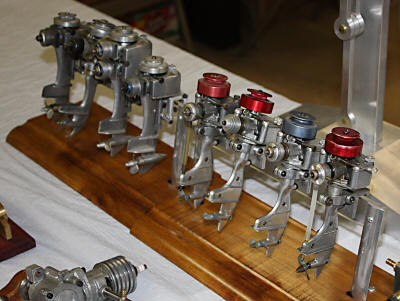 Posted September 8, 2023
(updated from original post on 3/29/2014)