This plan sheet for Warren Kurth's "049" Speed Entry, Peanut Mk.2, was printed in the October 1961 issue of American Modeler magazine. It won the ½A control line speed event with an official speed of 102.46 mph. As was common in the day, a bottom fuselage "pan" made of cast magnesium was used. Speed models had no landing gear and took off from a drop-away wheeled cradle (I have seen a rear bird or two with a single embedded wheel). They usually flew from paved or concrete runways (flying circles), so a metal fuselage made for a durable shell. It also made for a very rigid wing and tail mount. Metal working skill was/is needed for speed models for modifying the metal pans to accept the engine, fuel tank, control system, and other construction components.
Warren Kurth's "049" Speed Entry: Peanut Mk.2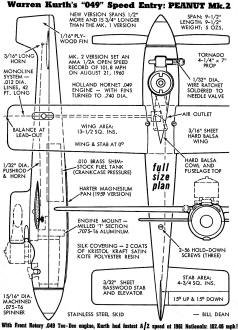 With Front Rotary .049 Tee-Dee engine, Kurth had fastest A/2 speed at 1961 Nationals: 102.46 mph!
Posted November 4, 2023