Hawker Hurricanes were the first line of defense for London against the onslaught of jet-powered German V-1 Buzz Bombs. Tempests were used as interceptors, fighter-bombers, escorts, for ground-attack duties against tanks and stationary targets. The plans are for a control line model scaled at one inch to the foot, which results in a 42" wingspan. Power is a McCoy .60, which would make for a very over-powered model. Ample room in the nose section easily accommodates a large powerplant in the model as it did in the full-size craft; in fact, the 24-cylinder Napier "Sabre" gave the Tempest a top cruise speed of 435 mph!

This is a companion article to "Clo Clo" - Terror in a Tempest.

Hawker Tempest
During the latter part of World War Two, French Ace Pierre Clostermann flew the rugged Hawker Tempest V which made its appearance at the front in April 1944. A development of the earlier, and not too successful Typhoon, the Tempest was a vastly superior airplane. Designed by Sidney Camm of Hurricane fame, the "V" was the only variation to be employed operationally during the war.

This Hawker, the fastest medium-altitude fighter in the Royal Air Force, had a speed of 435-mph hour at 17,000 feet. This coupled with the four 20-millimeter wing cannon made the Tempest the mainstay of England's defense against Germany's V-1 jet powered "buzz" bombs. This type aircraft accounted for more than one third of the 1,800 "buzz" bombs destroyed during the summer of 1944.

In addition to its cannon; two 1,000-lb bombs or eight rockets could be carried as offensive armament. Powering this large 13,500-lb plane was Napier's unique "Sabre" 24-cylinder, "H" type, horizontal liquid cooled, sleeve valve design which developed 2,400-hp. Range for the "V", 820 miles could be extended via two drop tanks to 1,300 miles. Altitude of 10,000 feet could be reached in 2.7 minutes.

Versatile Tempests were employed as interceptors, fighter-bombers, escorts, for ground-attack duties against tanks and stationary targets. Carbon-monoxide fumes which seeped into the cockpit dictated the use of oxygen at all times.

Our plans are scaled one-inch-to-the-foot to produce a model for powering with an engine from .29 to 60 cubic inch displacement.

Construction begins as follows: Cut fuselage sides from 1/4" sheet balsa, bulkheads from specified material. Bevel inboard surface of sides at rear (shown in top view), cement sides together at this point ... hold with pins or clamps until dry. Cement bulkheads in place between two sides, set aside to dry. Cut engine mounts, slip through bulkheads, cement well. The brace is required only if engine mount is cut away as shown for fuel tank and a .45 or larger engine. Apply several coats of cement around engine mount attachment.

Cut sheet balsa elevator and stabilizer. Join elevator halves by control horn or hardwood spar. Hinge elevator assembly to stabilizer, cement stab into fuselage slot. It is important to cut away portion of inner surface of each fuselage side to insure adequate freedom of movement of control horn.

Commercial bellcrank bolts to piece of engine mount material which is then well cemented to both fuselage sides. Cut control rod to length and slide through small holes in bulkheads. Using long nose pliers bend both ends of wire to fit through horn and bellcrank. Slip bent respective holes, solder washers to ends. The bulkhead small holes act as guides to keep control rod from bending when "up" elevator is applied.

Any standard fuel tank should fit - this item is installed. It may be necessary to trim away some of the engine mount to accommodate a tank of sufficient capacity for your engine. Secure tank with straps or wedges, plus balsa braces and ample cement. Add filling, vent, and fuel line plastic tubing. Tape its open ends to keep tank clean.

Additional construction instructions are on Hobby Helpers' plans.

The author expresses sincere appreciation to Mr. A. E. Ferko for his kind assistance which made this article possible.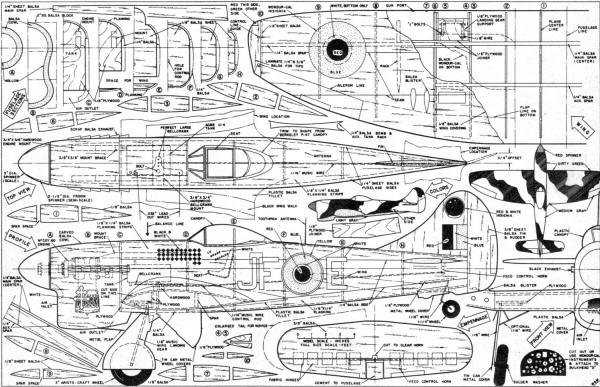 Notice:
The AMA Plans Service offers a full-size version of many of the plans show here at a very reasonable cost. They will scale the plans any size for you. It is always best to buy printed plans because my scanner versions often have distortions that can cause parts to fit poorly. Purchasing plans also help to support the operation of the Academy of Model Aeronautics - the #1 advocate for model aviation throughout the world. If the AMA no longer has this plan on file, I will be glad to send you my higher resolution version.
Posted February 20, 2022
(updated from original post on 11/9/2013)