Canada's de Havilland DCH-3 Otter

March 1962 American Modeler
March 1962 American Modeler

[Table of Contents]
Aircraft modeling has undergone significant changes over the decades - both in technology and preferences. Magazines like American Aircraft Modeler, American Modeler, and Air Trails were the best venues for capturing snapshots of the status quo of the day. Still, many things never change, so much of the old content is relevant to today's modeler.
Whether you are here to wax nostalgic, or are interested in learning history, hopefully you will find what you are seeking. As time permits, I will be glad to scan articles for you. All copyrights

(if any)

are hereby acknowledged.
There was no article accompanying this picture and 5-view drawings of Canada's de Havilland DCH-3 Otter. There is a nice in-air photo of an Otter sporting a really weird set of floats that look like they're too small and mounted backwards, and there are two highly detailed 5-view drawings. Versions are shown with standard wheels, with floats (normal looking ones), and with snow skis. Per Wikipedia, "The DHC-3/CSR-123 Otter was used until 1980 by the Royal Canadian Air Force and its successor, the Air Command of the Canadian Forces. It was used in Search and Rescue, as the "CSR" denotes Canadian Search and Rescue. The engine is a Pratt & Whitney R-1340 (1,340 cubic inches) geared engine. The version used in the Otter was geared for lower prop revs and consequently lower airspeed."
De Havilland DHC-3 Otter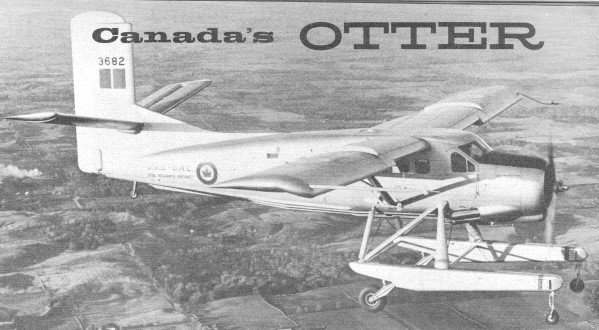 Canada's De Havilland DHC-3 Otter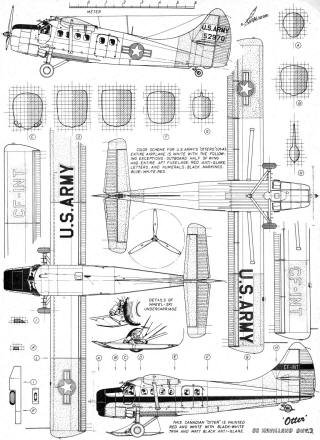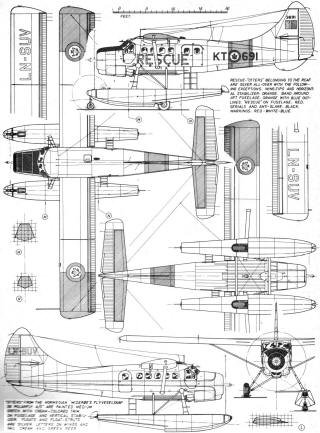 De Havilland DHC-3 Otter 5-Views (wheels & skis {left}, floats {right})
Posted June 24, 2013
Family Websites

All trademarks, copyrights, patents, and other rights of ownership to images and text used on the Airplanes and Rockets website are hereby acknowledged. If you own material used here and want it to be removed, please send an

e-mail

stating so.

Copyright 1996 - 2014

Webmaster: Kirt Blattenberger, BSEE


My lovely enabler, Melanie