- Archives -
• Night Airshow Accident Takes Life of Redline Airshows' Jon Thocker
• Jets Clip Wings at Reno
• Hottest Used Airplane Markets in Many Years
• Neil Armstrong's Moon Space Suit Is Deteriorating
• How Wing Cuffs Work
• At 60, NASA Shoots for Revival of Moon Glory Days
• Estes Industries Announces Ownership Change • EAA, Balloon Federation of America Announce Joint Effort
• How to Buy a Warbird
• Geico Skytypers Pilot Dies in Long Island Crash
• P–51 Dead-Stick, Off-Airport Landing

Way back in 1975, my friend, Jerry Flynn, and I assisted Dick Weber in his successful flight on June 14, 1975, that set a new FAI Closed Course Record of 225 miles in 5 hours and 38 minutes. We were both flaggers to signal when the Tortoise has passed the distance markers. See the article titled, "652 Miles Per Gallon," in the November 1975 issue of Model Aviation magazine. We were not at all involved in all the painstaking effort that Dick had put into preparing his model for the record flight. This account of William Bertrand's trials and tribulations in finally setting a new radio control world endurance record is valuable insight into what it can take to achieve such a goal. test after test on engines, fuel, airframe, radio system, fuel tanks ...

Steve Swinamer, a dweller of the northern climes of Canada, has a lot of days suited for building model airplanes. He uses the wintertime indoors days to create magnificent reproductions of vintage .020- and .049-powered designs. His latest creation is a ½A Ace Simple Citabria, which compliments other planes in his squadron like the Quarter Pint, the Ace Whizard, and the Ace Pacer. Thanks again to Steve for making his work available for inspection ...

As was probably inevitable, Alain has built and flown a giant version of his "Alain's Duck" canard. He did provide the specifics on wingspan of powerplant, but did send this photo. It doesn't stop there, though. An R/C turbine version is nearly ready for flight. A video will be posted soon, hopefully ...

"Although, winglets have been around since the mid-1970s, there is still a wide variety of shapes, sizes, and angles. If you've ever taken a photo out the window of a commercial airplane, you most likely have a great shot of a winglet - that part of the wing at the tip that angles upward. That little change in the wingtip's shape does a lot. It reduces drag, which can translate to higher speed or to allow a pilot to throttle back and save fuel. It also helps to reduce wingtip vortices that can be problematic for airplanes flying in their wake. Although, winglets have been around since the mid-1970s ..."
Bill Hutchinson drew many, many comics for model aircraft magazines in the 1950s, 60s, and 70s (and maybe the 1940s, but I don't have any that old). A lot of them have been - and are yet to be - posted her on the Airplanes And Rockets website. "Competition Daze" comics appeared in the November 1950 issue of Air Trails magazine, and has a control line theme. Also being about competition, Mr. Hutchinson integrated a few sports-related ideas into the situation. Control line stunt, speed, and combat are amongst the subjects. I haven't figured out what the punch line is on comic #3. Anyone? My favorite is #9 ...

"It might not the most elegant-looking thing on the road or in the sky, but an automobile-airplane hybrid that's being called the world's first practical flying car is almost ready to spread its wings. The two-passenger Transition will go on sale in the U.S. next year at an estimated price of $400,000, according to Terrafugia, the Woburn, Massachusetts-based firm that makes it. The Transition has four wheels, folding wings and a rear-mounted pusher propeller. Powered by a four-cylinder hybrid-electric engine, it can fly 100 miles an hour at altitudes of up to 9,000 feet, with a flying range of 400 miles. There are controls for both flying and driving: for the roads, conventional brake ..."
C-47 That Led Normandy Invasion Found & Restored

"The invasion of Normandy, also known as D-day, was one of the most horrific days in history, but it was also the beginning of the end of a horrific war - World War II. Most of the hundreds of thousands of men, women and children who died on that day remain nameless in the history books. The same is true for the airplanes that led the heroic efforts. The attacks came from several fronts on that fateful day, with ships dropping troops on the beaches of Normandy and airplanes deploying droves of people and ammunition from the skies. Once the war was over, most of those aircraft were destroyed or recommissioned, and their historic significance evaporated like the fuel that burned in their engines. Even some of the most notable airplanes fell into the shadows of the past ..."

A lot of model aircraft pilots are also full-scale pilots, so some of the news items on Airplanes and Rockets are topics that are more directed to them. This story about a software package called CloudAhoy is an incredible combination of recorded real-time GPS data and sophisticated post-processing and display that gives pilots a 3D visual representation of their flight path superimposed of detailed terrain features. I have seen some post-processing software for R/C airborne telemetry data, but nothing as detailed as this. Model aircraft don't cover as much ground in a typical flight as a full-scale aircraft does, but having a detailed 3D representation of the flight path would be a great training aid to aerobatic pilots ...

If you have been looking for an unusual project that should build fairly quickly, cost very little, contain non-standard materials, and qualify for a vintage design contest, then Rathgeber's "Minimum" fits the bill. It is a 1/2A control line speed model with about an 8" wingspan that appeared in a 1957 issue of American Modeler magazine. It does not appear to have been intended for serious competition, but given the single-line control and extremely high thrust-to-weight ration and minimal drag design, it might have been a contender back in the day. Designer George Rathgeber does not give specifics on timed flights. My guess is that it was a handful to fly due to lack of tail feathers ...

"As drones become more commonplace, the need to secure facilities from the high-definition cameras and potential dangerous payloads has caused a rapid growth of counter-drone technologies. DMT, LLC started making radar systems in 2002, and rapidly grew to build and sell these systems across the globe. The commercial radars produced by DMT employ pulsed-Doppler technology. Pulsed-Doppler radar is perhaps the most versatile of radar technologies and is known for its ability to operate in a wide array of environments and applications. DMT uses Doppler radar to track objects on land, sea and in the air. In 2015 it began testing its pulsed-Doppler radars against commonly available drones. Today it produces the longest-range, drone-detection radar systems ..."

This 1969 Camaro SS was my pride and joy as a teenager. It was purchased in 1975 for $3,500 from a fellow named Mr. Cavey, in Bowie, Maryland (I lived in Mayo, MD). He had ordered it custom from the Chevrolet factory with nearly every option available in 1969. This was not a Z10 model, but did have most of the options. The 1969 Indy 500 pace car was a Camaro SS convertible with a 396 engine and a white and orange paint job. As you can see in the top photo, my 1969 Camaro SS came with a white vinyl top, the ducted hood, rally wheels, hounds tooth upholstery, foldaway headlamps, 3-speed automatic transmission, 350 cu.in. V8 engine, electric windows, air conditioning, folding rear seats, sport side view mirrors, and full instrument cluster ...

The Northrop Gamma was as close to a one-size-fits-all aircraft as you would come by in the mid 1930's. It is pretty incredible to ponder the rapid development in aircraft and engines in the short three decades since the Wright brothers made their world's first powered flight in 1903. Airspeeds went from 30 miles per hour to more than 200 miles per hour. Engines went from 12 horsepower to nearly 1,000 horsepower in that timespan. The Northrop Gamma appeared in more than a dozen different versions including an air racer, a military bomber, a trainer, a high altitude weather research platform, a military attack airplane, and a seaplane. It was one of the first production designs to incorporate a completely enclosed cockpit - a welcome feature to pilots ...

"The US Air Force's unmanned X-37B space plane has passed its 400-day mark, inching its way toward setting a new flight duration record for the Orbital Test Vehicle (OTV) mission. The spacecraft, the fifth of its kind, was initially rocketed into orbit on September 7, 2017, aboard a SpaceX Falcon 9 rocket, according to Space.com. All previous OTV missions established new flight records, with the fourth spacecraft spending 718 days in orbit. Though details of the space plane are kept on a need-to-know basis by officials, it has been reported that the craft is carrying in its payload an Advanced Structurally-Embedded Thermal Spreader. In August, the space plane was spotted by Marco Langbroek ..."
"A novel insect-inspired flying robot, developed by TU Delft researchers from the Micro Air Vehicle Laboratory (MAVLab), has been presented in Science. Experiments with this first autonomous, free-flying and agile flapping-wing robot - carried out in collaboration with Wageningen University & Research - improved our understanding of how fruit flies control aggressive escape maneuvers. Apart from its further potential in insect flight research, the robot's exceptional flight qualities open up new drone applications. Flying animals both power and control flight by flapping their wings. This enables small natural flyers such as insects to hover close to a flower, but also to rapidly escape danger ..."
Very sad news arrived in my e-mail today that told of the passing of former AMA president and executive director Dave Mathewson. Dave's contribution to the Academy of Model Aeronautics is immeasurable, in my opinion, having followed his service over a couple decades. He was the District II VP when my family lived in Syracuse, NY, in the 1990's. Dave was the major force behind the AMA modernizing to adapt to the reality of contemporary modelers who opt for ready-to-fly models and electric power more so than traditional build-it-yourself modelers using glow fuel power. Although I am a member of the later category, the need to include and encourage the former category of hobbyists was obvious for the sake of organized aeromodelling survival. Many thanks to Dave's family for allowing him to pursue his passion for all our benefit. Dave Mathewson, 1/20/1952 - 10/21/2018. RIP ...

"The Boeing Co. on Thursday secured a hat-trick of Pentagon contract wins after it was awarded a deal worth as much as $9.2 billion to build new trainer jets for the U.S. Air Force. The Wall Street Journal reports. The contract to build an initial 351 T-X jets and supply training services is one of the largest Defense Department programs awarded in recent years, with the work helping sustain engineers and production equipment while the Pentagon considers the next generation of combat aircraft due to come into service in the 2030s. Analysts had favored Boeing in the long-running contest, expecting the aerospace giant to bid aggressively to secure the future of its main ..."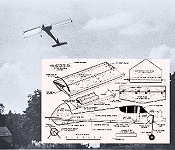 Flettner rotors were at one time believed to be the next big thing in air-driven propulsion. They would replace cloth sails on boats and fixed wings on aeroplanes. I remember seeing such fantastic contraptions in magazines like Mechanix Illustrated and Popular Mechanics back in the 1960's and 1970's. The nouveau sails and wings were actually built on experimental vehicles which can be found in a Google search on Flettner rotor. They operate on the Magnus effect, which is where a lifting force is generated by a spinning sphere or cylinder moving through the air (or water, or any fluid), thereby causing an unequal pressure to build on opposite sides. I had a Magnus rotor kite as a kid in the late 1960's that was made of thin, molded plastic ...

The Wee Bee was at one time considered the world's smallest man-carrying aircraft. It had an 18-foot wingspan and weighted 215 pounds without pilot. Lloyd Hunt's model of the Wee Bee is designed for either free flight or control line. For C/L it is powered by an .049 engine, and for F/F it uses an .020 engine. Its 22" wingspan makes it about 1/10th scale. Construction is built-up fuselage, wing, and tail surfaces with balsa sheeting over all. If you are looking for an unusual scale model that will not require a lot of detail to make it look authentic, the Wee Bee would make a good subject ...

Author:
Kirt Blattenberger