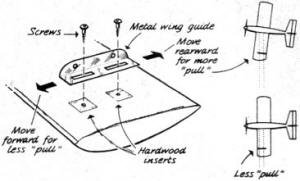 Beginner's control line model can be fitted with adjustable wing guide to increase or decrease "pull." Kenneth Ries, Baltimore, Maryland, screws metal guide into hardwood inserts.
Quick supply of balsa dowels can be made from square section balsa strips tapped through nut held in vise. Light sanding finishes dowel says H. Muller, Danboro, Pennsylvania.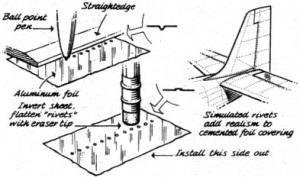 Utmost realism in simulating rivets in aluminum foil covering is knack of Michael J. Kiley, San Diego, California. Rivet bulges are flattened with eraser tip for authentic appearance.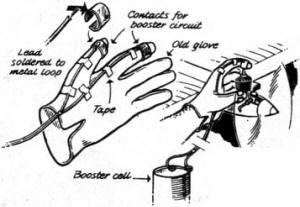 Quick booster starts can be made by rigging contacts in finger and thumb of glove. Grasp glow plug and engine during cranking for contact. Idea from William Franco, Waynoka, Oklahoma.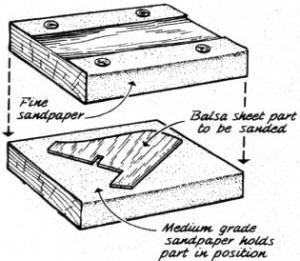 To uniformly sand thin sheet balsa parts, Jerry Wagner, Tallahassee, Florida., uses two blocks, one with fine sandpaper, one with medium grade. Latter holds part in position.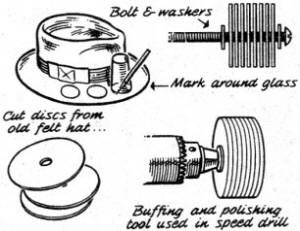 Handy buffing wheel for polishing model parts is made of felt discs cut from old hat. Arrange on bolt, use in hand drill says H. Josephs, Gardenville, Pennsylvania.
Dependable, easy method of selecting balsa sheets of equal lightness is suggestion of Mike Dudeck, Harvey, Illinois. Meter readings indicate weight; uniform readings mean uniform weight.