Sketchbook - Model Building Tips

March 1955 Air Trails Hobbies for Young Men
Necessity is the mother of invention, as the old saying goes. Back in the 1950s, invention was the necessity of modelers who were either on a tight budget, did not have access to the plethora of gadgets and devices available these days, or both. I really enjoy reading about some of the ideas devised by modelers for use on their airplanes. While doing something like splitting balsa sticks lengthwise to facilitate bending around tight curves - similar to laminating individual pieces, but on a local level - might seems obvious to a seasoned builder, there are always new people entering the realm or even old hands exploring a new area of aeromodeling who need to learn new methods. I actually had an idea printed once in Model Aviation where I suggested saving the small hypodermic dispensers (the ones with the skinny nozzles) from tooth whitening applicators for use in injecting epoxy into hinge slots.

Sketchbook

Toy "wind-up" auto gear box furnishes 8:1 escapement rubber winder reports Richard Stephens, Bronx, N.Y.C.


MODELPLANE

Have you developed something new in construction, control, or flying? Send a rough sketch - we'll redraw it and pay $10 for each accepted. Ideas should be original; sorry, no correspondence on submissions.




Longerons, leading edges, etc., may be curved easily if split, cemented in position says Ed Hecker, Ft. Lauderdale, Fla.



Beam-mounted engine is easily adapted for radial mounting suggests Carl Dodge, East Cleveland, Ohio


Realistic "flaps down" position at rest, on take-off and at landing for control model or freeflight scale is feature of gadget built by David Froba, Lousiville, Ky.




R/C model tab adjustment, designed by Eugene Englehardt, Cranston, R.I., permits quick increase or reduction of fin tab movement.



Rex DeSilets, Drexel Hill, Penna., devised unique system of making realistic dashboard for scale models.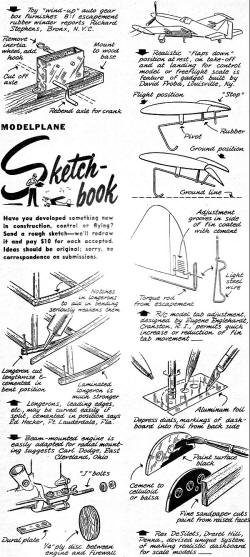 Sketchbook page scan



Posted October 5, 2013

Kirt Blattenberger
Carpe Diem!


(Seize the Day!)

Even during the busiest times of my life I have endeavored to maintain some form of model building activity. This site has been created to help me chronicle my journey through a lifelong involvement in model aviation, which all began in Mayo, MD. There is a lot of good information and there are lot of pictures throughout the website that you will probably find useful, and might even bring back some old memories from your own days of yore. The website began life around 1996 as an EarthLink screen name of ModelAirplanes, and quickly grew to where more server space ...

Copyright 1996 - 2022
Webmaster:
Kirt Blattenberger
BSEE - KB3UON
Family Websites:
RF Cafe | Equine Kingdom

All trademarks, copyrights, patents, and other rights of ownership to images and
text used on the Airplanes and Rockets website are hereby acknowledged.