I have received many requests for the scanned plans file for the Comet Sparky free flight model. Along with the plans, I provide three files that contain the printwood patterns. Printwood patterns, for those of you unfamiliar with the term, are the ink pattern that were printed directly onto the balsa so that the model builder could cut the pieces out. This was the el cheapo way of producing a kit where the expense of die cutting was not incurred by the manufacturer. Truth be told, the die cutting was usually so lousy that you were better off cutting the parts yourself. Well, it would be if companies like Comet didn't make a habit of using balsa with about the same density and hardness as oak. Cutting 1/16" square longerons in fuselage bulkheads or wing spar notches in wing ribs was a real challenge - especially if you were a kid whose only form of razor sharp tool was a used blade from your father's razor.
By the way, the printwood patterns are necessary because most plans from kits do not include templates for all of the sheet balsa parts. That is as true today as it was 50 years ago.
When using my computer image files for making parts templates, it is necessary to devise a means for transferring the full-size patterns to the balsa. Fortunately, Mr. Robin Tole has created a method that uses Avery label sheets and a standard ink jet (or laser) printer. He was kind enough to provide the details, along with photos, so I'll let him do the talking.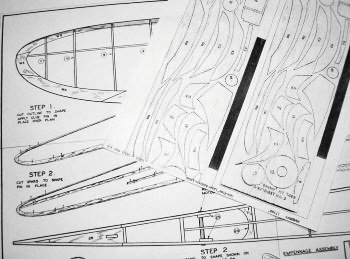 ******** July 12, 2009 ********
Hi Kirt,
I have taken some pictures of the sequence of events for cutting parts from templates printed onto Address Labels.
When I had the idea to use this technique, the largest labels I could buy locally were two A5 labels on a single A4 sheet.
I stick Scotch "Magic Tape" over the middle join to avoid the labels separating when peeling them off the backing paper.
The pictures show a wing part for "Sparky" being prepared.
There is probably a way to print the images full size to the rule scales without resorting to scaling with the CAD program.
I don't know how to do this though.
I re-sized the JPG images as a batch - the originals were too large to e-mail. I found a piece of free software to do this (Easy Thumbnails).
I hope that the pictures are acceptable.
Best Regards,
Robin.
******** END ********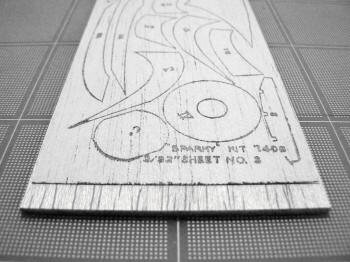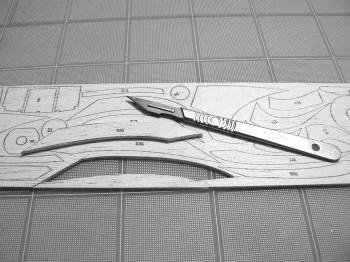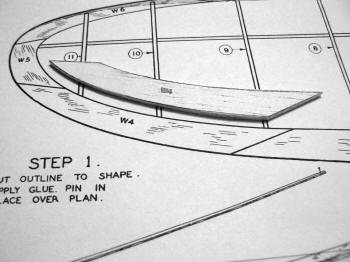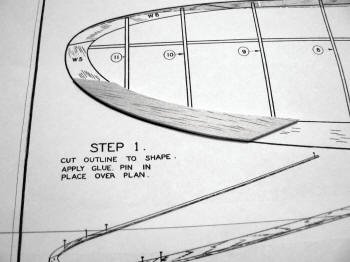 Posted September 25, 2023
(updated from original post on 3/20/2010)