Here is a vintage Jetex-powered Comet Lockheed F−94C Starfire kit (Kit No. SP−1) that, prior to my receiving it, had been started by the previous owner. It was designed and drawn by Gerald Blumenthal. The copyright date printed on the plans is 1953. It is currently for sale for $150 (please send me an e-mail if interested).
Many of the parts had been cut out of the printwood balsa sheets, but none of the airframe has been assembled. There were no laser-cut kits back in the era of this kit, when the die-cut balsa sheets often were more appropriately referred to as "die-smashed" due to dull cutting edges on the die. It was also not uncommon for the die-cut part to not exactly match the outline of the printed pattern. Cutting out the parts with an X-Acto knife takes more time, but at least for the small shapes and for accuracy that is the way to go. I have not done a full inventory of the kit, but it appears most, if not all, parts are present. The vacuum-formed plastic components are a bit deformed and discolored (might just need cleaning) from sitting in the box for many decades, but are useable. It would take a lot of patience and motivation to build this F−94C Starfire kit.
A unique feature is the way the landing gear legs are assembled out of a hardwood dowel for the main strut with music wire protruding from the bottom for attaching the wooden wheel. One of the gears is already built. Details are provided for the installation of a Jetex 150 engine with the augmenter tube.
The Free R/C Plans website has a downloadable set of Comet Jetex-Powered Lockheed F-94C Starfire plans suitable for building.
Wingspan = 25-5/16" | Length = 24-7/8" | Power = Jetex 150
Larger version of plans with legible instructions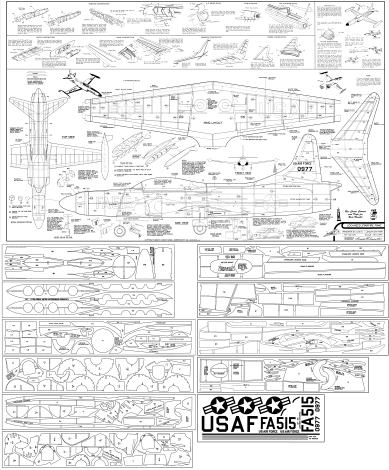 Download these Comet Lockheed F94C Starfire plans and printwood patterns on the AeroFred website.
Posted September 21, 2019