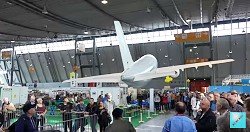 This giant Airbus A-320 lightweight is the creation of Airstage craftsman. CEO Rainer Mugrauer is himself an active R/C modeler. Airstage says, "Our expertise lies in the design of remote-controlled flying objects and their eye-catching presentation for events and show productions." It has a 189" wingspan and weighs only 13 oz (filling the model with helium helps reduce the flying weight).
From the A-320 flight YouTube webpage:
"Published on Dec 23, 2016 *** © Thomas Petschel, RC RC RC!!!
* First flight from Thursday. Absolutely great!! Enjoy it *
Wingspan: 4,8m (189 in.)
Weight: 350g (13 oz.)
Show: Airstage.de - Model Fair Stuttgart 2016

B
Airstage' YouTube page with many of its videos can be seen here.
Posted January 7, 2017