Radio Circus Real Laugh Riot

December 1957 American Modeler
It's hard to imagine a time when radio control was such a novelty that contests included events where models were steered around on the ground around obstacles. We've come a long way, baby.

Western Modeling by Dick Everett

Radio Circus Real Laugh Riot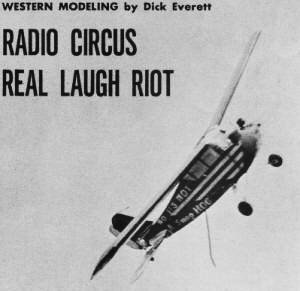 Dean Kenney's No-it's-not-a-Smog-Hog (left) sprays spectators with perfume at LARKS' radio control circus.





The Larks' R/C circuit was an outstanding success. The largest crowd to witness a model meet in California this year was treated to a "show" that was better than many others which they could have plunked down a five spot to see.

Activity was continuous with 28 possible radio control stunts listed for points plus special trophies for the most novel stunts. Most points you could garner in anyone stunt was for skywriting or for a carrier-arrester landing, neither of which anyone managed. Some of the contestants attempted the "carrier" ­ all griped about the small deck. It was, too; models looked like B-36's while on the deck!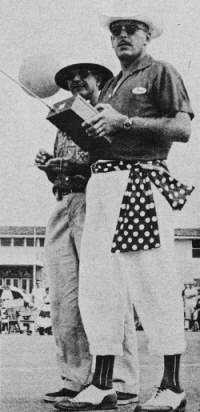 The Calypso Kid (Dean Kenney) turned out in red & white costume, including shoes! Note balloons on judge's hat.
Ray Down navigates the obstacle course; markers were set a mere 10 feet apart. This required some real good piloting and a very maneuverable entry.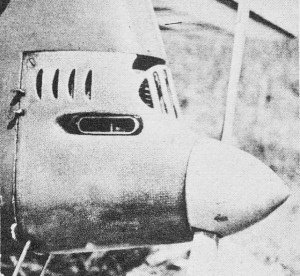 Fiberglass cowl on Bob Hunter's huge Class C free flight; Styrofoam body. (See October A.M.) Italian engine.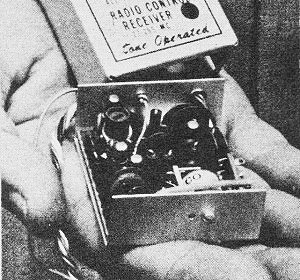 Small handful is Deltron's all-transistor receiver. Four x-istors are tone modulated 800 to 1000 cycles.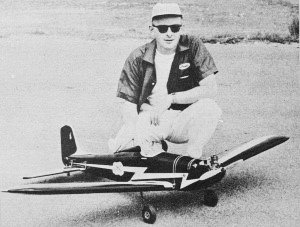 Fred Dunn with his low-wing Smog-Hog. Everett reports model very neatly constructed, has perfect take-off and landing pattern, is smooth flyer.

Demerits. On the debit side, if one pulled a "Kenney Flounder" (whatever that was) he lost 10 points and for soft-soaping (or "Bonnerizing") the judges from 0 to minus 50. We didn't see any attempted inverted landings or inverted takeoffs but they were worth 30 points if one made it.

Entrants tried everything from drop-the-hankie, bomb drops, parachute drops, glider drops, combat, airmail to point delivery and return - just about everything you could name.

The airmail point-to-point delivery and return saw a lot of activity and some difficulties since the landing point was some 200 yards away. Landings that far followed by a "taxi" to the person the mail was addressed to was a little tough. Return flight to the judges was awaited eagerly since the questions and answers were quite funny. Dean Kenney's answer to "What is your name?" of "Lover Boy" brought loud laughs from everyone. "Win" Biscay's answer to the question "How old are you?" ("Guess") still has them thinking.

Close Race. Pylon racing found a lot of guys trying this for the first time. Bob Dunham and Ray Downs flew a spectacular race. Ray led most of the way and at times was as much as a half a lap ahead but Bob put on a spectacular burst of speed coupled with some tight flying to gain all this back in the last lap and nose Ray out by 2.5 tenths of a second. Their planes were less than ten feet apart when they crossed the finish line.

Dunham tried this course a second time, managed to clip almost 25 seconds off his first mark, turning the 5 laps at an average speed of 23.71 mph. This was the same "Smog Hog" with which he won first at the Nats. Biscay and Bill Williams tried the course with rudder-only but ran out of time before they could finish.

Mad Le Mans. A "Le Mans" start had the most contestants. Models were lined up with the pit crews 50 feet from the flyers and planes. After a couple of false starts when some of the mechanics got a little too eager, they ran to their models and started the engines. Engines had to stay running while they dashed back to the starting line and picked up a spare prop. Then back to their R/C jobs, stop the engines, change props, re-start engines, run back to the starting line.

This event was a real mad house; the false starts were only the beginning. Some engines didn't start so easily, some stopped with the contestants half way back to the starting line, some fellows even forgot to drill out their props, some had the wrong wrenches! All in all, the spectators got a big laugh and the entrants had more fun than ever before. Ray Downs was the Le Mans winner with Fred Dunn a very close second.

Beautiful Hog. Concourse D'Elegance was won by Fred Dunn with - now hold on to your hats - a low-wing Smog Hog. Fred had finished the ship the morning of the contest, the receiver and transmitter being "Orbits" were checked out by Dunham, the servos being Bonner's were "Bonnerized" by the ole man hisself.

First test flight found everyone anxiously crowded around watching. With Bonner at the controls the LWSH made a super-smooth takeoff for maximum points and then up in what was a beautiful flight. Bonner rolled the ship, looped it everything but the one stunt Dean Kenney wanted - an outside loop. Landing was perfection. Only trim adjustment made to the ship was a little down-trim in the elevator and a bit of right thrust. Fred Dunn is one of those real neat builders who manages to always have the slick models which everyone admires and his "Smog-under-Hog" is no exception.

Fly Two At Once. Trophies for the most novel stunts in rudder-only and "multi" had the gang trying everything. Bill Williams topped the rudder-only group by flying two R/C jobs at one time. He tried 3 but couldn't quite keep the 3rd one airborne. Want to do something difficult, then try this - it gets a little grim when one model is behind you and one in front.

In multi, Dean Kenney borrowed a page from the latest brush fire fighting technique and sprayed the crowd with a perfumed water solution.

There was a futile attempt made to bar Bonner from flying unless he put on his South African shorts - this didn't get far sorry to relate.

Other winners named after all the fun was over were "Pappy" Biscay in rudder-only, Dean Kenney in multi. Most humorous flight costume worn by Bill Luss. You can bet there will be more of these contests by the Larks. Since it goes over big why doesn't your club try one?
&
Nelson's New Rigs. We had a quick peek at Vic Nelson's all transistorized tone modulated receiver and his new transmitter. Both look real good. Compactness of receiver has lead him to build a 32" semi-scale job for the new Cox engine. All-up weight of the receiver and battery can be as low as 2.5 ounces; complete with relay it measures 3/4 x 1 1/4 x 2 1/8" and with a regular 22 1/2 volt battery weighs 3 ounces (with a 1/2 size battery weight is further reduced). This package includes the relay; case is rugged .025 aluminum. Etched circuit uses Philco A01 and A02 transistors, 4 in all; super regen, tone modulation is 800 to 1000 cycles; idles at less than 1 ma; jumps to more than 4 ma on signal.

The transmitter is also a printed circuit using two tubes, modulated to match the receiver and in a well arranged package. As with the earlier Deltron transmitter, antenna is coil-loaded for peak output. Vic claims this circuit is stable thru 115 degrees. Price is $29.95 for the receiver, $24.95 for the transmitter.

Multi Shakes. Colby Evett is a monster from outer space as far as we are concerned. He put the 5 channel transmitter for his "Big Moe" in our trusting little hands recently while the ship was high in the air. Never having flown a multi ship before you can well imagine the feeling we had with a real hot ship on our hands. After some anxious moments and some wrong control we managed to take a deep breath and enjoy ourselves. Now the only difficulty is - we have a lap R/C "Over-the-Rainbow" plane almost finished, we have a 5 channel CG receiver which we had intended to use for rudder, breaks and motor but - Evett should be banned from flying. Colby, in spite of what you did to us, the model will be finished as started ­ so there!

International Qualifications. FAI: what difference does the rule changes make? - we could not see much. Out of 16 entries at Los Angeles, 9 qualified with minimum times, the models climbed just about as high, glided just about as good.

In gas there were only two new airplanes, most fellows being content to pile on lead. Harry Gould added 12 ounces 3/16 incidence. Dick Sladek's 520 wing and 250 tail were leaded up to 35 ounces but it didn't seem to matter a great deal. The equalizer was the hand launch. It takes a good hand launch glider arm to get these models started. One difference is more damage to models when obstacles are hit. Bob Wiehle sheared his wing in two on a water sprinkler and was out. Erv Rodensky dethermalized on a tree stump and shattered his covering. That kinetic force is much greater.

Twenty-four entered Wakefield and contrary to other events the 20% limit qualified the last member. For the first time in history no TT'er qualified. Frank Newquist's winning 839 seconds was very good time. Some tried to fly on only 8 strands of rubber and had a 2 minute plus prop run - but no altitude.




Notice:

The AMA Plans Service offers a full-size version of many of the plans show here at a very reasonable cost. They will scale the plans any size for you. It is always best to buy printed plans because my scanner versions often have distortions that can cause parts to fit poorly. Purchasing plans also help to support the operation of the Academy of Model Aeronautics - the #1 advocate for model aviation throughout the world. If the AMA no longer has this plan on file, I will be glad to send you my higher resolution version.

Try my Scale Calculator for Model Airplane Plans.

Posted May 20, 2012

Kirt Blattenberger
Carpe Diem!


(Seize the Day!)

Even during the busiest times of my life I have endeavored to maintain some form of model building activity. This site has been created to help me chronicle my journey through a lifelong involvement in model aviation, which all began in Mayo, MD. There is a lot of good information and there are lot of pictures throughout the website that you will probably find useful, and might even bring back some old memories from your own days of yore. The website began life around 1996 as an EarthLink screen name of ModelAirplanes, and quickly grew to where more server space ...

Copyright 1996 - 2022
Webmaster:
Kirt Blattenberger
BSEE - KB3UON
Family Websites:
RF Cafe | Equine Kingdom

All trademarks, copyrights, patents, and other rights of ownership to images and
text used on the Airplanes and Rockets website are hereby acknowledged.