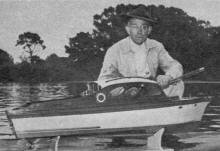 Virgil Gustoyino and his "Anna I". Cedar PT hull design, original mahogany superstructure. Forster "99" power, water cooled, homemade R/C. The overall length of this craft is 52 inches.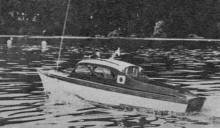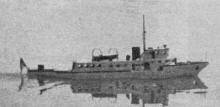 Charles Hering, West Los Angeles, built this model of 125 foot diesel engine powered yacht. Recently completed, this 31 inch miniature is powered by 7-pole permanent magnet motor which runs off wet cell batteries. Could be mistaken for the real thing.
Here's a convenient way to start small boats submitted by the versatile Bill Baughman of Los Angeles. If you're tired of trying to hold the boat yourself, or getting someone else to do so when you start the engine, build up a holder similar to this one. Protected with an old inner tube, boat is held snug while the starting cord is used. Boxes shown, war surplus ammo cases, work fine.

Class C (15 c.c.) 30 1/4" racing boat built by Walt Mac Williams, Philadelphia. MPBC. Engine is rebuilt oversize glow-plugged Dooling with homemade piston, bored-out cylinder liner. World's record holder at 81.44. Beam, 10 1/4" across sponsoons.

Max Biederman of New York. Model Knights owns world record Class A which set mark of 69.23 mph. boat and engine both by Max. Motor is 2-cycle, disc rotary valve, glow plug ignition.
Class E (10 c.c.) by Ralph Richards of Philadelphia. Power is stock McCoy, .60, glow plug. Same hull design-size as MacWilliams', laid out by Harry Traband. Holds record at 84.50.