This particular page is from page 67 of the November 1970 issue of
American Aircraft Modeler
magazine.
Sig Manufacturing
is still in operation. I have always liked Sig models, but anymore they seem a little expensive. Of course that could just be due to the lower Volumes of kits being produced these days; ARFs and RTFs have unfortunately forced many kits out of production. Here is my
Citabria
,
Akrobat
, and my
Akromaster
. All copyrights (if any) are hereby acknowledged.
Use the U.S. Bureau of Labor Statistics'
inflation calculator
to see what items cost in today's dollars. For instance, that 40
¢piece of 3/32" x 3" balsa sheet
would be $2.23 in 2010 money.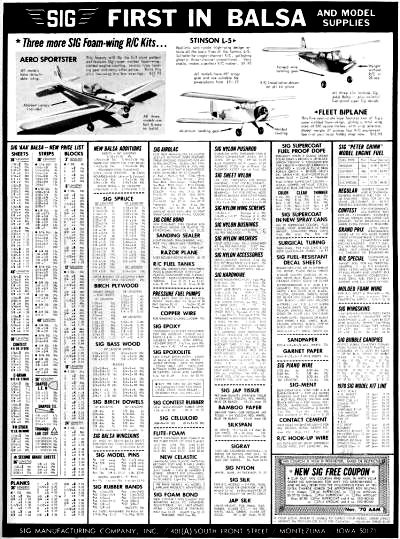 Vintage Model Aircraft Magazine Advertisements:
AM = American Modeler | AAM = American Aircraft Modeler | AT = Air Trails | FA = Flying Aces | FM = Flying Models | MAN = Model Airplane News
Ace Radio Control, May 1957 AM
Ace Radio Control, Jan 1970 AAM
America's Hobby Center, Jan 1962 AM
America's Hobby Center, Sep 1970 AAM
Berkeley Models, Jan 1941 FA
Berkeley Models, Dec 1954 AT
Berkeley Models, Jul 1957 AM
Bonner Digimite, Feb 1967 MAN
Carl Goldberg, Feb 1967 MAN
Carl Goldberg, Jan 1970 AAM
Citizen Ship Radio Corp, Jun 1957 AM
Cox Thimble Drome .049, Annual 1961 AM
deBolt Model Engineering, Jun 1957 AM
Du-Bro Products, Nov 1970 AAM
K&B Fokker D.7 Biplane, Jun 1963 AM
EK Products, Nov 1970 AAM

Enterprise Model Aircraft
, Jun 1957 AM
Eureka Importing Co.
, Jun 1957 AM
Fox Fuels
, Jan 1962 AM
Fox Manufacturing
, Apr 1962 AM
Guillow's, Dec 1969 AAM
, Dec 1969 AAM
Guillow's
, March 1955 AT
Hawk Model Company
, Jun 1957 AM
Heathkit
, Sep 1970 AAM
Herkimer (OK) Tools & Model Works
, Sep 1957 AM
Hobby People
, Sep 1970 AAM
Jetco
, Jul 1972 AAM
Lafayette Radio
, Jun 1957 AM
Min-X
Model Rectifier Corporation (MRC)
, May 1971 AAM
Nick Ziroli
OS-Graupner Wankel Engine in World Engines
, March 1972 AAM
Pan American World Airways Ad (PAA-Load)
, Annual 1955 AT
Polks Hobbies
, Apr 1957 AM
Revell
, Feb 1967 MAN
Royal Products
, Sep 1970 AAM
Scientific Models
, Nov 1970 AAM
Sig Manufacturing
, Nov 1970 AAM
Sterling Models, Dec 1954 AT
Sterling Fokker D-7
, Aug 1968 AAM
Sterling Models
, Sept 1970 AAM
Sterling Models
, Nov 1970 AAM
Tatone Products
, Nov 1970 AAM
Thimble Drome
, Sep 1957 AM
Top Flite
, Dec 1969 AAM
United States Rubber Company
, Apr 1957 AM
United States Rubber Company
, Annual 1955 AT
World Engines
, Mar 1973