U.S. Armed Forces Recruitment Advertisements

1957 American Modeler
Model aviators and the U.S. Armed Forces have had a long-standing relationship. Up until the early 1970s, the U.S. Navy sponsored and promoted the Academy of Model Aeronautics' (AMA) Nationals competition right on actual Navy bases. Their motivation was to become a familiar entity to young modelers who would, hopefully, eventually enlist or receive a commission when they come of age. It was working well until the average age of national competitors began creeping upward to where only a very small percentage of all competitors were within recruiting age. At that point, the Navy issued an ultimatum to the AMA: bring more youngsters into the competitions or loose the sponsorship. AMA officials heeded the call and was able to improve the situation, but alas it was short-lived. A few years later the Navy no longer considered its involvement worthwhile. Flash forward to the scene of today's competitions and you can see how youths comprise a very small percentage of the Nats. As of 2010, the average age of an AMA member is somewhere around 58 years old.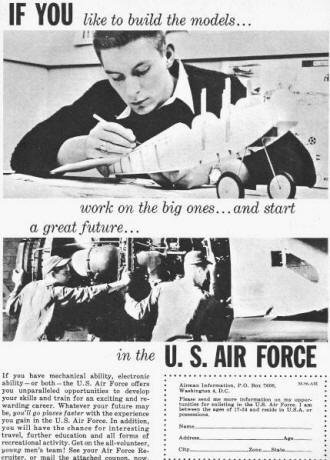 Today's youths are adept at activities involving computers and wireless devices, no so much at hands-on building and troubleshooting. Since much of the military technology has evolved into computer-controlled equipment, the fit is still pretty good with available talent, so it's not so bad. Most of the actual equipment maintenance is contracted out to the companies that design and build it, so there isn't much of a need for military personnel to do it. One really cool aspect of the new military is the proliferation of remotely piloted vehicles (RPVs), with many opportunities for guys who like flying models to do it for a living! There are manpack formats now where soldiers in the field pull a Styrofoam drone out of a backpack, do a quick assembly, and toss it into the air for an aerial surveillance sortie to peek over the next hill or tree line to see if the enemy is lurking. I would have loved to have had such a job while in the USAF back in the late 1980s early 1980s (I was an airport surveillance radar tech).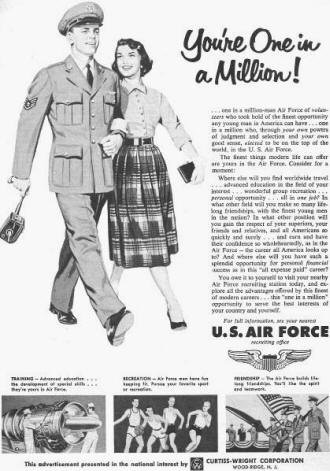 Advertisements below were scanned from circa 1957 editions of American Modeler. The theme centered on leveraging young peoples' interest in hands-on activities and a fascination with things that fly. Very few tasks in modeling were easy - particularly actually getting a model to fly properly - so the Army, Air Force, and Navy figured that guys with the determination to succeed in such endeavors would be prime candidates for the Armed Service. They were right. It is rare to see such an ad these days, and if you do, if is very small.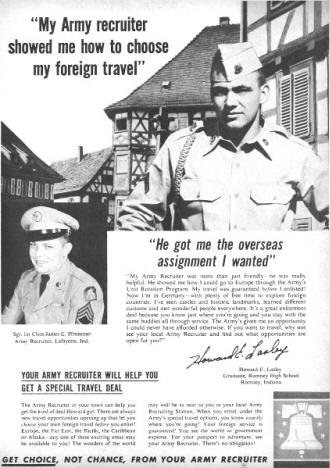 Vintage Model Aircraft Magazine Advertisements:
AM = American Modeler | AAM = American Aircraft Modeler | AT = Air Trails | FA = Flying Aces | FM = Flying Models | MAN = Model Airplane News

Ace Radio Control, May 1957 AM
Ace Radio Control, Jan 1970 AAM
America's Hobby Center, Jan 1962 AM
America's Hobby Center, Sep 1970 AAM
Berkeley Models, Jan 1941 FA
Berkeley Models, Dec 1954 AT
Berkeley Models, Jul 1957 AM
Bonner Digimite, Feb 1967 MAN
Carl Goldberg, Feb 1967 MAN
Carl Goldberg, Jan 1970 AAM
Citizen Ship Radio Corp, Jun 1957 AM
Cox Thimble Drome .049, Annual 1961 AM
deBolt Model Engineering, Jun 1957 AM
Du-Bro Products, Nov 1970 AAM
K&B Fokker D.7 Biplane, Jun 1963 AM
EK Products, Nov 1970 AAM


Enterprise Model Aircraft, Jun 1957 AM
Eureka Importing Co., Jun 1957 AM
Fox Fuels, Jan 1962 AM
Fox Manufacturing, Apr 1962 AM
Guillow's, Dec 1969 AAM, Dec 1969 AAM
Guillow's, March 1955 AT
Hawk Model Company, Jun 1957 AM
Heathkit, Sep 1970 AAM
Herkimer (OK) Tools & Model Works, Sep 1957 AM
Hobby People, Sep 1970 AAM
Jetco, Jul 1972 AAM
Lafayette Radio, Jun 1957 AM
Min-X
Model Rectifier Corporation (MRC), May 1971 AAM
Nick Ziroli
OS-Graupner Wankel Engine in World Engines, March 1972 AAM
Pan American World Airways Ad (PAA-Load), Annual 1955 AT
Polks Hobbies, Apr 1957 AM
Revell, Feb 1967 MAN
Royal Products, Sep 1970 AAM
Scientific Models, Nov 1970 AAM
Sig Manufacturing, Nov 1970 AAM
Sterling Models, Dec 1954 AT
Sterling Fokker D-7, Aug 1968 AAM
Sterling Models, Sept 1970 AAM
Sterling Models, Nov 1970 AAM
Tatone Products, Nov 1970 AAM
Thimble Drome, Sep 1957 AM
Top Flite, Dec 1969 AAM
United States Rubber Company, Apr 1957 AM
United States Rubber Company, Annual 1955 AT
World Engines, Mar 1973

Posted March 27, 2012

Kirt Blattenberger
Carpe Diem!


(Seize the Day!)

Even during the busiest times of my life I have endeavored to maintain some form of model building activity. This site has been created to help me chronicle my journey through a lifelong involvement in model aviation, which all began in Mayo, MD. There is a lot of good information and there are lot of pictures throughout the website that you will probably find useful, and might even bring back some old memories from your own days of yore. The website began life around 1996 as an EarthLink screen name of ModelAirplanes, and quickly grew to where more server space ...

Copyright 1996 - 2022
Webmaster:
Kirt Blattenberger
BSEE - KB3UON
Family Websites:
RF Cafe | Equine Kingdom

All trademarks, copyrights, patents, and other rights of ownership to images and
text used on the Airplanes and Rockets website are hereby acknowledged.