Livingston, New Jersey, Club Builds Control Line Navy Carrier Deck

September 1967 American Modeler
Control line Navy Carrier is another form of flying I have always wanted to try but never had the chance (yes, I know, no excuses). Here in this 1967 edition of American Modeler is a photo of the guys at the Livingston, N.J., Model Airplane Club assembling their fancy new carrier deck. There are not a whole lot of videos out there of control line Navy carrier flying, but I posted a couple good ones I found.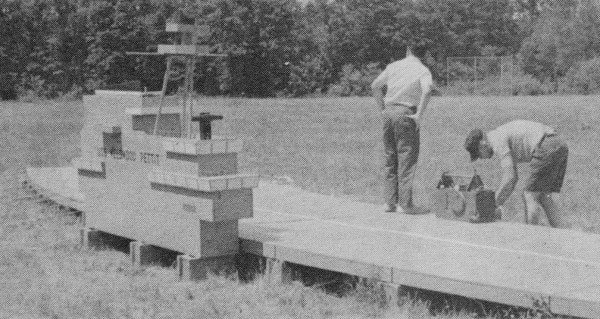 Livingston, N.J., Model Airplane Club, and Essex County's newest carrier deck


Take one small but enthusiastic model airplane club, one big dream, lots of wood, paint, nails, hard work, Coke and hamburgers and you come up with the Livingston, N.J., Model Airplane Club, and Essex County's newest carrier deck.

Early in 1966 the club decided to enter the carrier event competition by constructing a carrier deck at G.V. Controls Co., Livingston, N.J. The carrier deck, complete with a scale island, was carefully blueprinted by senior club members. U.S. Plywood Company's 3/4-in. 4x8 AC fir panels and etitt Paint Company's epoxy and marine paint were the materials chosen by the club to withstand the rigors of weather resulting from a permanent outdoor installation.

The Club's 18 or so junior and senior members pitched in, laying out panels, cutting wood, nailing and painting. The island is removable during flight competition and also serves as a storage area for sandbags, hardware and lines. By June the carrier deck was completed and ready for the first carrier takeoff.





1970s Control Line Carrier Competition Video

Modern Control Line Carrier Video


Posted March 22, 2013

Kirt Blattenberger
Carpe Diem!


(Seize the Day!)

Even during the busiest times of my life I have endeavored to maintain some form of model building activity. This site has been created to help me chronicle my journey through a lifelong involvement in model aviation, which all began in Mayo, MD. There is a lot of good information and there are lot of pictures throughout the website that you will probably find useful, and might even bring back some old memories from your own days of yore. The website began life around 1996 as an EarthLink screen name of ModelAirplanes, and quickly grew to where more server space ...

Copyright 1996 - 2022
Webmaster:
Kirt Blattenberger
BSEE - KB3UON
Family Websites:
RF Cafe | Equine Kingdom

All trademarks, copyrights, patents, and other rights of ownership to images and
text used on the Airplanes and Rockets website are hereby acknowledged.