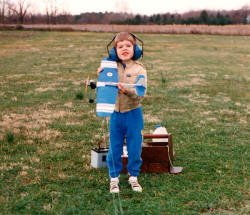 My son, Philip. learned how to fly a control line airplane using the Carl Goldberg Li'l Jump'n Bean. He is shown in the picture to the right in our backyard in Smithsburg, Maryland, sometime around 1991. Philip was about 5 years old at the time. Note the use of ear protection.
The entire airplane was covered with Monokote for strength and ease of repair during the learning process. A Cox Black Widow .049 engine provided power.
As I recall, the learning process went quite well, with only a couple minor mishaps. The propeller was installed backwards to provide less thrust, and the Cox Black Widow .049 engine was adjusted to run as slowly as possible while still being reliable. By this time, I had finally purchased an electric starter for small engines, so the process was much easier.
A few years later, we built two more Carl Goldberg Li'l Jump'n Beans to use for dog fighting. That was in Colorado Springs sometime around 1998. I've got picture somewhere but cannot find them not.


Li'l Jumpin' Bean Kits - Original & New Boxes